Twitter Now Suspends Babylon Bee Editor Following 'Joke' About Satire Site Being Suspended
March 23, 2022 | Tags: ZEROHEDGE
Twitter Now Suspends Babylon Bee Editor Following 'Joke' About Satire Site Being Suspended
Authored by Steve Watson via Summit News,
Twitter has doubled down on its suspension of the account belonging to the satirical website The Babylon Bee by suspending the personal account of its chief editor after he 'joked' about what it would take to lift the suspension.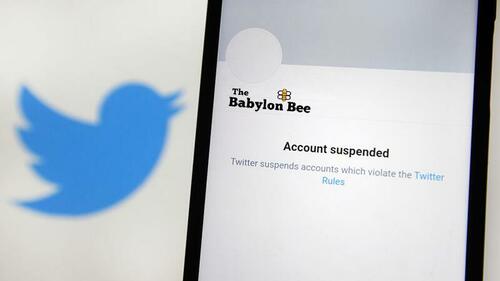 The Babylon Bee's editor-in-chief Kyle Mann is in 'twitter jail', locked out of his account for suggesting that Twitter might lift its original suspension "if we throw a few thousand Uighurs in a concentration camp."
The comment was likely a reference to Twitter allowing Communist Chinese Party PR people and apologists to operate freely on the platform.
The tweet landed Mann a personal suspension for 'hateful conduct', as noted by Babylon Bee CEO Seth Dillon:
The Babylon Bee's editor in chief has now been locked out of Twitter for hateful conduct. pic.twitter.com/toNL98w2mb

— Seth Dillon (@SethDillon) March 22, 2022
As we covered yesterday, Seth Dillon appeared on on Tucker Carlson's show Monday to speak about the original suspension of the Babylon Bee by Twitter for for promoting a parody article about transgender Biden Assistant Secretary for Health Rachel Levine being the "man of the year."
The accounts of the Bee and its editor are eligible to be restored after a 12 hour suspension, but only once the original tweets have been deleted, an action that Dillon says will not be forthcoming.
We're told our account will be restored in 12 hours, but the countdown won't begin until we delete the tweet that violates the Twitter Rules. pic.twitter.com/85tdmrqJpU

— Seth Dillon (@SethDillon) March 20, 2022
"It's like asking us to say 2+2=5," Dillon told Carlson, adding "We're sitting here looking at this email that tells us in order to reinstate our account and get access to be able to tweet again, we've got to delete this tweet. And the tweet's a joke, that's the first thing to get straight here. This is satire…"
"We don't believe that facts are hate speech, that speaking truth is hate speech," the CEO said, adding "At some point, people need to stick by this, Tucker. "
"They're asking us to basically bend the knee and say 'we admit that this is hateful conduct, please keep us on your platform.' And we're not going to do that, so we don't know where this ends," he further urged.
Watch:
Carlson himself tweeted that both the posts of the Bee and Mann are "true" with screenshots of them, prompting Twitter to censor the post. In its place now appears the note "This Tweet violated the Twitter Rules."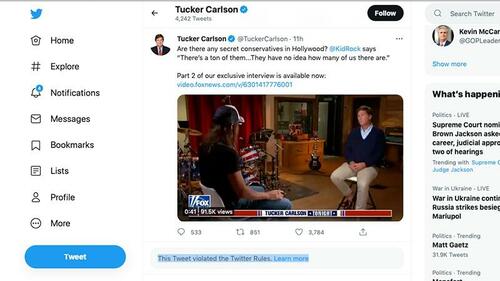 The platform has likely stopped short of suspending Carlson knowing that it would garner massive media attention.
Tyler Durden
Wed, 03/23/2022 - 10:45