Watch: Gingrich Says Kamala Harris "May Be The Dumbest Person Ever Elected Vice President"
March 23, 2022 | Tags: ZEROHEDGE
Watch: Gingrich Says Kamala Harris "May Be The Dumbest Person Ever Elected Vice President"
Authored by Steve Watson via Summit News,
Appearing on Fox News Monday, former Speaker of the House Newt Gingrich declared that Kamala Harris "may be the dumbest person ever elected Vice President" following another bizarre speech from Harris earlier in the week.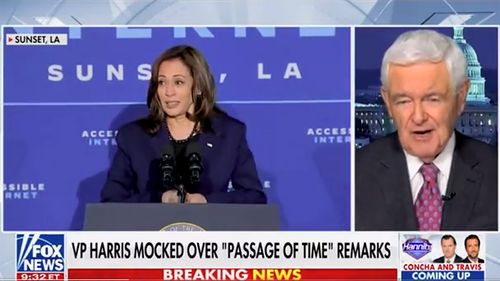 Referring to Joe Biden and Harris, Gingrich proclaimed "You know, he may or may not have cognitive decline problems at his age, but at her age, she's just dumb."
"Let's be clear, Kamala Harris may be the dumbest person ever elected vice president in American history and that's why people keep resigning," Gingrich further asserted, referring to Harris's office losing yet another official this week in national security advisor Nancy McEldowney.
Gingrich continued, "If you were her national security advisor, and you were competent, and you'd worked hard, and you knew what you were doing, and you watched her in Poland break up laughing when she's asked about Ukrainian refugees, you had to feel a sense of total humiliation," Gingrich further exclaimed.
I agree with Newt Gingrich, Kamala Harris might be the dumbest person to ever serve as Vice President of the United States, and that list includes Joe Biden. pic.twitter.com/1xTJqVIP0K

— Brigitte Gabriel (@ACTBrigitte) March 22, 2022
Here is Harris laughing when asked about refugees:
.@VP Harris awkwardly starts laughing when asked about the Ukrainian refugee crisis pic.twitter.com/SIHhiLbK6X

— Tom Elliott (@tomselliott) March 10, 2022
It's hardly the first time this has happened.
In addition to Harris' inane cackling, she also struggles to string a sentence together coherently:
KAMALA HARRIS: "The significance of the passage of time, right? The significance of the passage of time. So when you think about it, there is great significance to the passage of time...there is such great significance to the passage of time." pic.twitter.com/jUsnyNiSpB

— RNC Research (@RNCResearch) March 21, 2022
Nevertheless, Biden keeps calling her POTUS and saying she will soon be running the show.
*  *  *
Brand new merch now available! Get it at https://www.pjwshop.com/
In the age of mass Silicon Valley censorship It is crucial that we stay in touch. We need you to sign up for our free newsletter here. Support our sponsor – Turbo Force – a supercharged boost of clean energy without the comedown. Also, we urgently need your financial support here.
Tyler Durden
Wed, 03/23/2022 - 16:19