Apple Reportedly Planning Hardware 'Subscription' Services
March 24, 2022 | Tags: ZEROHEDGE
Apple Reportedly Planning Hardware 'Subscription' Services
In what would be a dramatic shift in the company's business model, Bloomberg is reporting that, according to people with knowledge of the matter, Apple is working on a subscription service for the iPhone and other hardware products.
The service would be Apple's biggest push yet into automatically recurring sales, allowing users to subscribe to hardware for the first time, rather than just digital services.
This move would clearly make it easier for consumers to stomach than spending thousands of dollars on new devices, and perhaps is the main driver of the decision.
Bloomberg reports that the program would differ from an installment program in that the monthly charge wouldn't be the price of the device split across 12 or 24 months. Rather, it would be a yet-to-be-determined monthly fee that depends on which device the user chooses.
The subscription service is still expected to launch at the end of 2022, but could be delayed into 2023 or end up getting canceled, the people said.
As a reminder, iPhone sales account for more than half of Apple's revenues and are by far the largest segment of business within the world's largest company...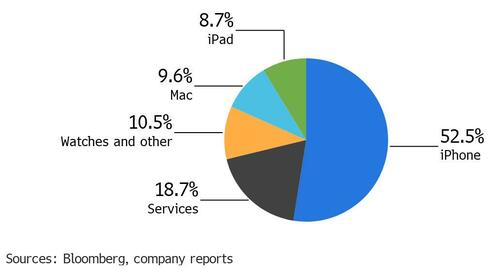 The initial kneejerk higher in AAPL stock has been rapidly erased as investors question the reasoning for Tim Cook's decision to shift model...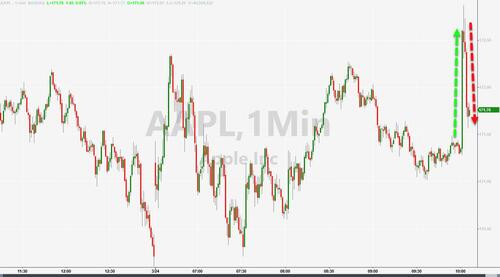 This move by Apple comes after China Academy of Information and Communications Technology (CAICT) disclosed that international (Apple) shipments tracked at 2.1 mn units for the month of February, only modestly below the historical average of 2.2 mn shipments for the  month of February.
Most notably, this means shipments in February decreased -71% m/m vs. seasonal downtick of -55% m/m from January to February...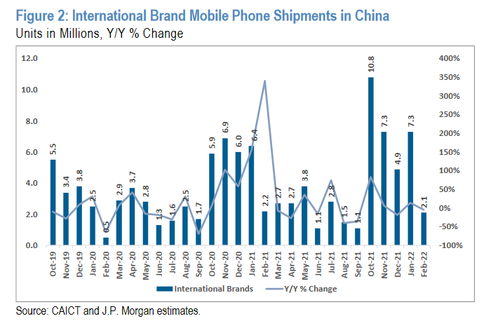 Is the shift to a 'rental' model a sign that sales of the hardware are crashing (and the China data is not an outlier after all), as soaring inflation in necessities is eating away at global disposable incomes?
Tyler Durden
Thu, 03/24/2022 - 13:17