Stocks Surge On Report Of "Careful Optimism" In Ceasefire Talks
March 24, 2022 | Tags: ZEROHEDGE
Stocks Surge On Report Of "Careful Optimism" In Ceasefire Talks
US equity markets are rallying following a report from Axios' Middle East correspondent, Barak Ravid, of "careful optimism" over ceasefire talks.
BREAKING: I spoke today with President Zelensky's chief of staff Andriy Yermak. He said there was progress in the ceasefire negotiations with Russia and expressed "careful optimism". More soon on @Axios

— Barak Ravid (@BarakRavid) March 24, 2022
The reaction was "buy first, think later"....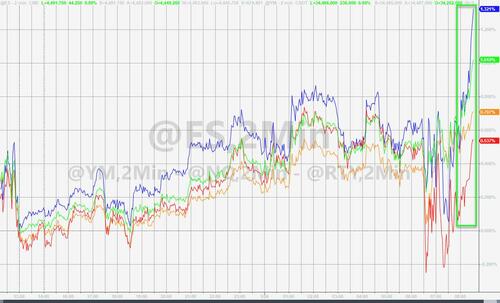 We suspect, given Zelenskiy's tone this morning with G-7 comments, this excitement may fade fast.
Tyler Durden
Thu, 03/24/2022 - 11:36