US PMIs Unexpectedly Surge In Early March Survey, Costs Increasing At Near-Record Pace
March 24, 2022 | Tags: ZEROHEDGE
US PMIs Unexpectedly Surge In Early March Survey, Costs Increasing At Near-Record Pace
After an unexpected rebound in February, analysts expected US Manufacturing and Services PMIs to fade back modestly (even as US macro data has recently improved relative to dismal expectations), but instead both Services and Manufacturing surged higher in preliminary March data.
US Manufacturing PMI rose to 58.5, from 57.3, better than the 56.6 expected - 6 month high

US Services PMI rose to 58.9, from 56.5, better than the 56.0 expected - 8 month high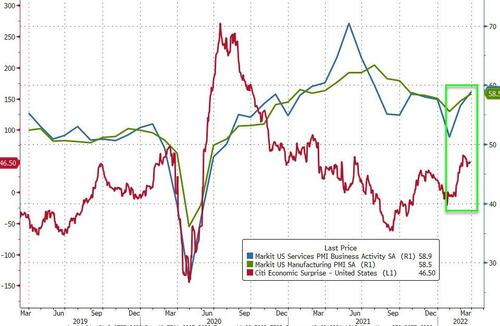 Source: Bloomberg
The headline Flash US PMI Composite Output Index registered 58.5 in March, up from 55.9 in February, to indicate the fastest rise in private sector output since July 2021. The sharp expansion in activity was broad- based and signalled a further recovery from January's Omicron-induced slowdown.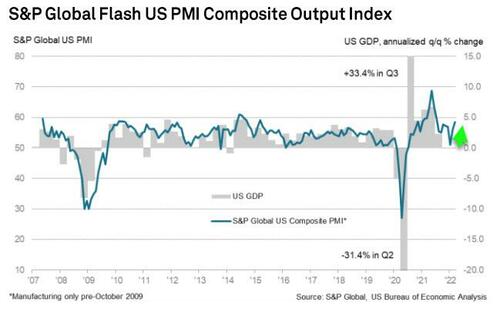 Commenting on the flash PMI data, Chris Williamson, Chief Business Economist at S&P Global said:
"The pace of US economic growth occeleroted sharply in March os COVID-19 containment measures were relaxed to the lowest since the pandemic began, offsetting o drag from growing concerns about the Ukraine war. Output across both manufacturing and services rose at a rate not seen since last June with inflows of new business surging at a rate not witnessed since the strong rebound of the economy seen in the second quarter of last year.

"Services led the upturn as the hospitality sector in particular benefitted from loosened pandemic restrictions, though manufacturing output growth also accelerated, buoyed by rising demand and fewer supply constraints. Supply bottlenecks fell to the lowest for 74 months.

"Capacity continues to be stretched, however, with March seeing an unprecedented build-up of uncompleted orders as firms struggle to meet demand. Hence job creation picked up again to the highest for nearly a year as firms sought to expand to meet rising sales, both at home and abroad. Not only did domestic demand improve, but new export orders also rose at a rate not seen since last May.

"With demand running ahead of supply, selling price inflation for goods and service remained elevated in March, though cooled slightly from February. However, a further upward lurch in costs, which were pushed ever higher by rising energy and other commodity prices, means inflation does not yet appear to have peaked.

"In terms of the outlook, business confidence slipped to the lowest since last October but remained encouragingly resilient, as rising geopolitical concerns over Russia's invasion of Ukraine, higher living costs and Fed policy tightening were largely allayed by hopes of the economy gaining strength as the drag from the pandemic continues to recede."
Meanwhile, price pressures remained a significant theme in March, as costs increased at one of the fastest rates on record. Firms stated that further hikes in raw material, fuel and energy costs drove inflation, but also highlighted that the war in Ukraine and China's lockdowns were exacerbating supply chain strain.
Tyler Durden
Thu, 03/24/2022 - 09:54