Oil Spikes As Ukraine Operator Halts Some Russian Pipeline Flows
August 9, 2022 | Tags: ZEROHEDGE
Oil Spikes As Ukraine Operator Halts Some Russian Pipeline Flows
Crude oil prices are higher this morning after reports that Russian oil flows via the southern leg of a major pipeline were suspended.
Ukrtransnafta, which operates Ukraine's oil pipeline network and transits crude via the southern leg of the Druzhba link, halted Russian crude deliveries on Aug. 4, Transneft said in a statement on Tuesday.
This means flows to the Druzhba pipeline toward Hungary, the Czech Republic and Slovakia are halted.
According to a spokesman for the country's crude pipeline operator Transneft, EU sanctions are preventing Russia's transit payment.
Flows via the northern leg of the link to Poland and Germany are unaffected.
The reaction is notable but not extreme for now, with WTI reversing overnight losses down to $89 and heading back towards $92...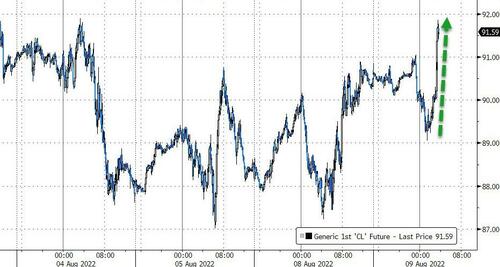 "The market reaction tells you the fragility of the fundamentals remains acute," said Harry Altham, an analyst at brokerage StoneX.
Transneft is reportedly working on alternative options to transfer the funds, according to the statement.
Tyler Durden
Tue, 08/09/2022 - 07:00