Belarus' Lukashenko Visits Russian Troops, Declares "Common Cause"
January 6, 2023 | Tags: ZEROHEDGE
Belarus' Lukashenko Visits Russian Troops, Declares "Common Cause"
Ever since President Vladimir Putin's Dec.19 visit to Belarus, there have been persisting fears of a major new offensive on Ukraine being readied from the north with Belarusian army help. This as Russian heavy equipment has continued to be transferred to Belarusian territory. 
"Minsk's defence ministry says a train carrying Russian troops and equipment has arrived in Belarus," as cited in international reports. "Belarus, who is a close Moscow ally, said it would receive more weapons and equipment from Russia on Thursday as the two boost their military cooperation."
Russian troops continue to arrive in Belarus

According to the Belarusian Defense Ministry "personnel, weapons, military and special equipment" of the Russian Armed Forces continue to arrive in the country. The number of arriving servicemen or weapons is not specified. pic.twitter.com/avVGLRLgFU

— NEXTA (@nexta_tv) January 5, 2023
The two countries have been conducting joint drills of late, precisely as they were just prior to the initial major Feb.24 invasion of Ukraine. All of this is stoking fears Belarus is poised to join Russia in fighting the Ukrainians as part of the so-called 'Union State'. 
Belarus could be used as a staging post to attack Ukraine from the north. Last month Minsk condemned an incident wherein it said Belarusian anti-air defenses shot down a Ukrainian S-300 that flew across the border - though it was reportedly an 'errant' missile.
On Friday, Belarus' defense ministry announced that President Alexander Lukashenko paid a visit to a military base where Russian troops are stationed, in but the latest sign of Belarus' growing support to Russian efforts in Ukraine.
"At this stage, units of the Armed Forces of the Russian Federation are ready to carry out tasks as intended," a defense ministry official said, describing that Lukashenko discussed ongoing joint drills with Russian commanders. Lukashenko himself reportedly referred to the conflict in Ukraine as part of his country's "common cause" with Russia.
The Ukrainian government, meanwhile, has continued to charge that Russia is using Belarusian territory to launch drones as it targets energy infrastructure.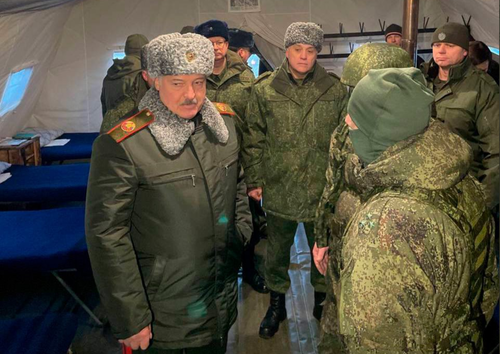 Kiev authorities are also warning the population that Russia is preparing a major new offensive and mobilization - warnings which have been going out since December, though which has yet to materialize.
As the The Hill detailed this week: 
Some Ukrainian officials also warned last month about a potential new Russian offensive in January or February, including Gen. Valeriy Zaluzhnyi, a top commander in the Ukrainian army who told The Economist that Russia is preparing some 200,000 troops and could have another go at Kyiv.
Ukraine's defense minister Oleksii Reznikov also issued a New Year message, and in it appealed to the Russian people, warning that Putin his about to declare martial law and close borders to men, in preparation for a new wave of mobilization.
Tyler Durden
Fri, 01/06/2023 - 09:30