Samsung Profits Plunge 69% As Global Chip Demand In 'Full-Fledged Ice Age'
January 6, 2023 | Tags: ZEROHEDGE
Samsung Profits Plunge 69% As Global Chip Demand In 'Full-Fledged Ice Age'
The world's largest memory chipmaker recorded an operating profit decline of 69% for the three months that ended in December -- the worst drop in nearly a decade -- as the semiconductor supply glut worsens. 
Preliminary numbers released by Samsung showed the company's operating profit declined to 4.3 trillion won ($3.4 billion) last quarter, missing the average analyst estimate of 6.7 trillion won ($5.3 billion). Sales fell to 70 trillion won ($55 billion) in the quarter, down 8.6% over the same period a year ago. The company is expected to publish a full financial statement with net income and updates on divisional performance at the end of the month. 
"Amid continued external uncertainties, including a potential global economic downturn, overall earnings decreased sharply quarter on quarter as we saw a significant drop in the memory business results due to lackluster demand and weaker sales of smartphones," the company said in a statement.
Readers have been well informed about South Korea's largest company grappling with dismal memory chip demand. We cited the Korea Economic Daily in September that warned about Samsung's troubles and how the "semiconductor industry has entered a full-fledged ice age."
"The decline in 4Q demand was greater than expected as customers adjusted inventories in their effort to further tighten finances," Samsung said in its statement, adding significant price declines in memory chips and slumping smartphone sales were due to "weak demand resulting from prolonged macro issues." 
And those macroeconomic headwinds Samsung might be talking about could be the global economy sliding into recession. Earlier this week, International Monetary Fund Managing Director Kristalina Georgieva warned about global recession risks on CBS's 'Face the Nation.' 
South Korea's exports of memory chips are in a down-cycle, indicating a worsening slump in tech demand critical to global economic growth.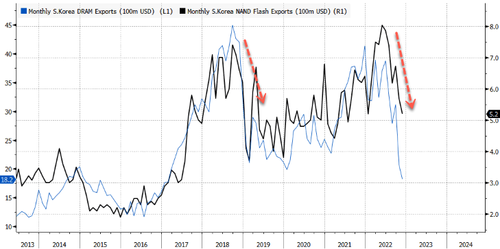 Despite the bad news, though mostly known, shares of Samsung Electronics trading on Korean exchanges rose 1.4% Friday -- holding above the 100-day moving average. 
Here's what Wall Street analysts had to say about Samsung (list courtesy of Bloomberg):
CLSA Securities Korea (Sanjeev Rana) 
"Shares are rising because really bad numbers from Samsung raise the likelihood of the company taking some action to control memory supply in the form of capex or production cut" 
"Samsung has been adamant that it has no plans to cut capex or supply but a fast deterioration in the demand and its deteriorating profitability means that the management might be forced to consider the unthinkable, i.e. memory production cuts" 
 Other memory chip suppliers from Micron to Kioxia and SK Hynix have already announced reduction in either capex or output; if Samsung joins, it will become clear that the industry supply growth will tighten, leading to a better demand supply balance later this year
Midas International Asset Management (Shin Jin-Ho) 
In the past when earnings were bad, the shares began to rebound after Samsung's comments on output adjustment 
So investors are buying on the earnings shock, as expectations for output cut increase after earnings miss 
Bullish on Samsung stock price in the short term
Bloomberg Intelligence (Masahiro Wakasugi) 
Samsung's 1Q profit could stay low after its 4Q preliminary results came in 35% below consensus
The NAND chip division may have posted a loss in 4Q due to severe price erosion while DRAM generated profit
Earnings recovery might be slow in 2023 on declining chip prices despite demand recovery in 2Q or 3Q
Tyler Durden
Fri, 01/06/2023 - 12:21