Slowing Salaries & Slumping Services Spark Savage Stock/Bond-Buying Spree
January 6, 2023 | Tags: ZEROHEDGE
Slowing Salaries & Slumping Services Spark Savage Stock/Bond-Buying Spree
Friday's trading day action encompassed the whole week's moves with stocks surging from their lows of the week to their highs after weak wage growth ('bad' news is good news for inflation hawks) and then ugly ISM Services (with tumbling price indices offering some dovish hope for The Fed). Stronger than expected payrolls gains set against that
revived 'soft landing' dreams and sparked a dovish dump in the market's expectations for Fed rate trajectories (with terminal rate expectations tumbling and subsequent rate-cut expectations soaring)...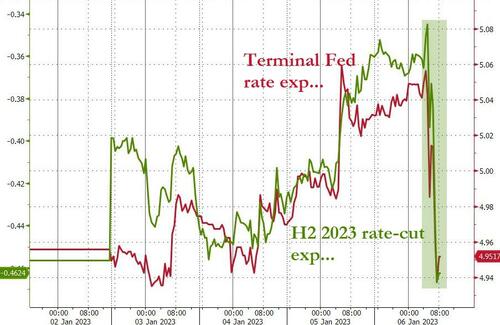 Source: Bloomberg
Just forget the uber hawkish FOMC statement and the hawkish comments from every Fed Speaker this week (even Bullard who seemed to walk back the smidge of dovishness he offered), and grab those data points that fit the narrative of choice for the machines that day.
That dovish shift sent stocks soaring to the highs of the week, with Small Caps leading and The Dow and S&P up 1.5% to start 2023 (Nasdaq lagged but still managed gains). Some late-day profit-taking wiped some lipstick off the pig however...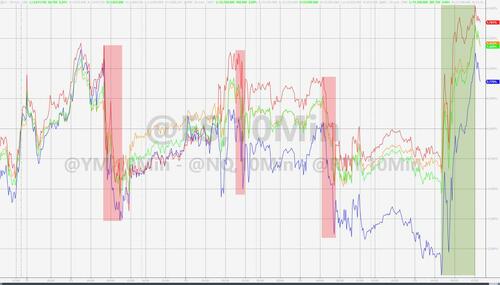 In case you wondered what today's epic meltup was about - it's simple: 0-DTE chaos...
0DTE call volume just going nuts today, and may lead to a 0DTE SPX record (in % terms).

1 million calls traded so far today, 59% of those are tied to today's expiration, and those are heavily concentrated at:

3890: 72k
3895: 65k
3900: 98k pic.twitter.com/M85Ba1KSyf

— SpotGamma (@spotgamma) January 6, 2023
The S&P broke out of its 3-week range between 3800 and 3900...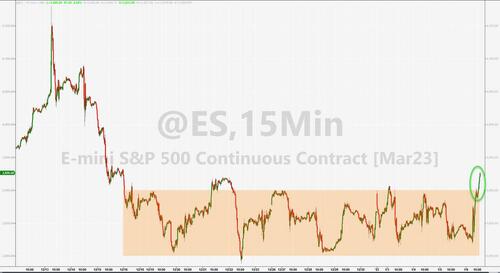 TSLA ended the week lower but today saw a massive reversal...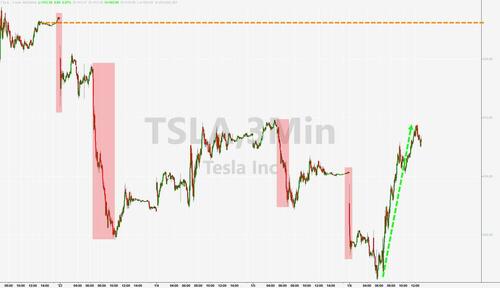 Bonds were aggressively bid today, slamming yields lower on the week with the 10Y yield down 32bps on the week (2Y -16)...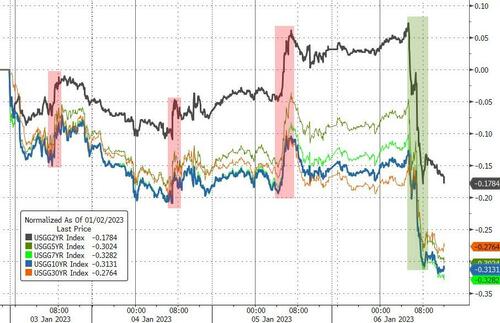 Source: Bloomberg
All of which flattened the yield curve even more dramatically, with the 3M10Y spread at a historically deep inversion of over 100bps...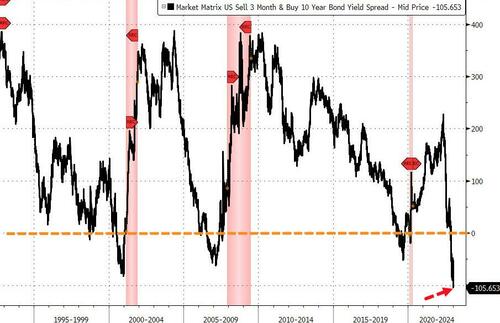 Source: Bloomberg
For some context, the 33bps plunge in 10Y yields is the best start to a year on record (based on Bloomberg data back to 1963)...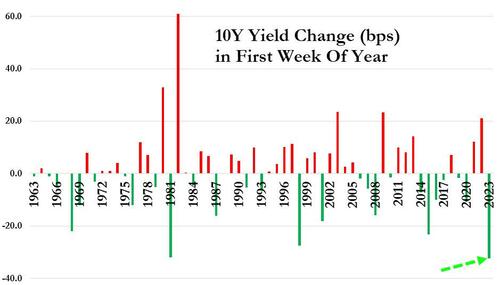 The dollar was clubbed like a baby seal today, erasing a strong first week of the year's gains...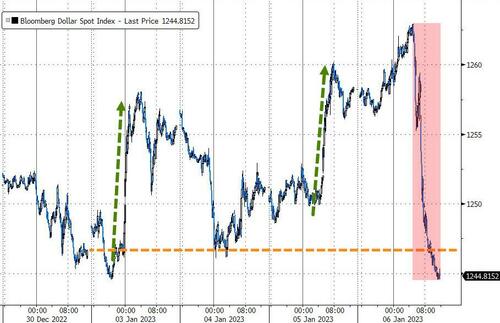 Source: Bloomberg
Cryptos had a good week to start the year with Bitcoin rallying back up to $17,000 today...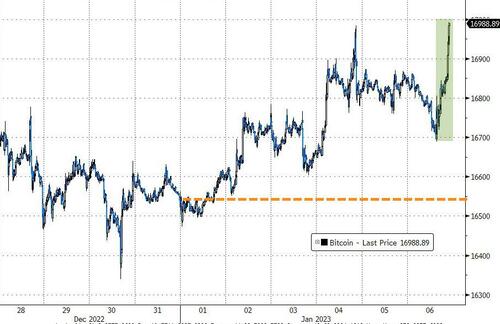 Source: Bloomberg
Gold soared in its first week of 2023, up over 2.5% to $1875 for the first time since June 2022 (up 15% from the early November lows)...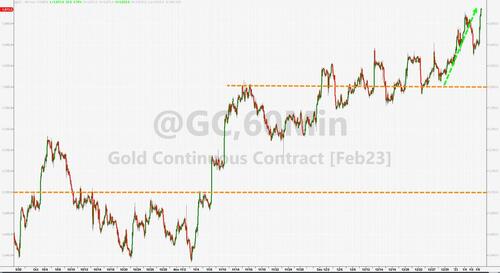 Oil tanked to start 2023 with WTI back to $73 handle (after testing $80 twice and failing)...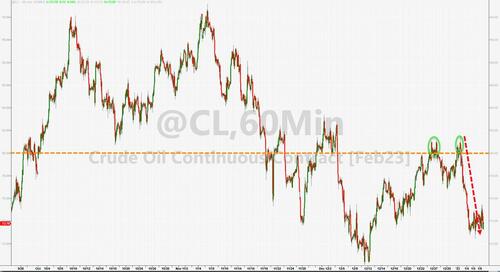 But NatGas was really monkeyhammered after warmer than expected weather in Europe eased demand fears, sending Henry Hub back to a 3 handle - its lowest since Dec 2021...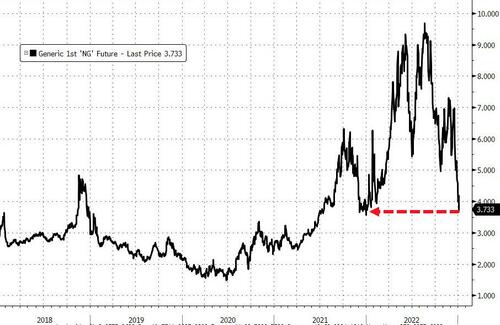 Finally, we note that there is a growing and dramatic divergence between the labor market (strengthening) and financial conditions (tightening)...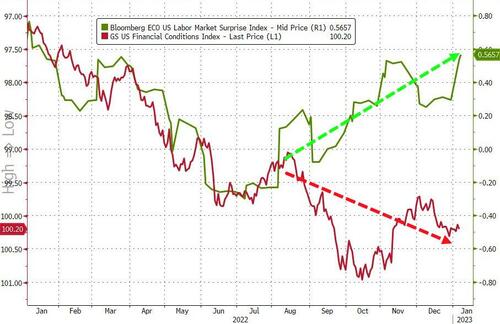 Source: Bloomberg
We suspect this is very much not what The Fed wants to see as their policy transmission mechanism seems completely broken and they already spoke up against "unwarranted" easing expectations being priced into markets...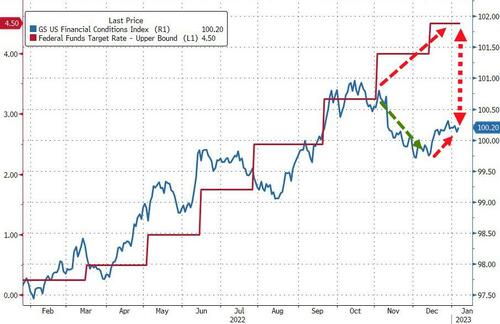 Source: Bloomberg
Expect a lot of FedSpeak pushing back against 'singular' data points as indicative of anything trend-wise (especially as we face CPI next week).
Tyler Durden
Fri, 01/06/2023 - 16:01