Saudi Arabia's PIF That Owns LIV Golf "Emerging" As "Possible Bidder" For WWE In Entertainment Expansion
January 7, 2023 | Tags: ZEROHEDGE
Saudi Arabia's PIF That Owns LIV Golf "Emerging" As "Possible Bidder" For WWE In Entertainment Expansion
World Wrestling Entertainment, Inc. (or WWE) shares jumped on Friday after the entertainment company announced founder Vince McMahon, who retired last year amid allegations of sexual misconduct, would return to the board as a possible sale is being explored. Then after markets closed on Friday evening, a report surfaced that the Saudi-backed sovereign fund behind the pro golf league LIV Golf could be a possible bidder for WWE if it decides to sell.
Michael McCarthy and A.J. Perez of "Front Office Sports" wrote, "Saudi Arabia's Public Investment Fund is emerging as a possible bidder for WWE if the promotion puts itself up for sale. "
PIF, who owns LIV Golf -- appears to have expanding interests in sports and entertainment. LightShed Partners analyst Brandon Ross told Front Office Sports:
"In the same way they did LIV, there's an unlimited faucet of dollars there.

"The Saudis are already a decent part of the profitability of the company just on those two [Saudi-based WWE] events alone. They're trying to be relevant in the entertainment world." 
Last month, WSJ reported McMahon "told people that he intends to make a comeback at WWE," and on Friday, it appears he has done just that, with the return to the board and finding a buyer for the company. 
Back to WWE and Saudi Arabia, Front Office Sports said the two have a "deep history" of holding events in the Middle Eastern country. WWE recently signed a deal to hold two events annually in the Kingdom through this decade. 
WWE shares closed up 17% to $84.27 on Friday after the news of McMahon returning to the board. 
We pointed out that WWE's equity float as a percentage of short interest is about 20% -- as the news of McMahon, possible sale, and rumor of interested PIF bidder sparked a squeeze.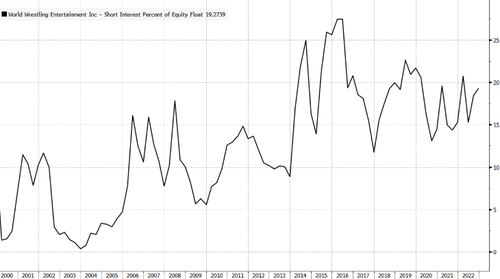 If Front Office Sports is correct, it appears the Saudis are preparing to expand their reach over several forms of entertainment, from golf to wrestling -- and the big question: What's next?.. XFL?
Tyler Durden
Sat, 01/07/2023 - 18:00