Thousands Of NYC Nurses Officially On Strike After Failed Negotiations
January 8, 2023 | Tags: ZEROHEDGE
Thousands Of NYC Nurses Officially On Strike After Failed Negotiations
Update (Monday): 
Last-minute negotiations failed between the New York State Nurses Association (NYSNA) and two major NYC hospitals early Monday morning. More than 7,000 nurses are expected to strike today. 
"After bargaining late into the night at Montefiore and Mount Sinai Hospital yesterday, no tentative agreements were reached," the statement by the NYSNA said. "Today, more than 7,000 nurses at two hospitals are on strike for fair contracts that improve patient care."
Strike Locations 
Social media activity shows hundreds of nurses striking outside of the hospitals. The numbers are expected to grow throughout the day. 
‼️@nynurses are ON STRIKE at Mount Sinai‼️ pic.twitter.com/7wjvG9v7Ld

— Socialist Alternative NYC (@SocialistNY) January 9, 2023
#HAPPENINGNOW Over 7000+ Nurses strike at two of NYC's largest Hospitals

STORY: https://t.co/aUoVV6CK5Z

Video by Dakota Santiago (Desk@freedomnews.tv to license) pic.twitter.com/GwPhunqRpt

— Oliya Scootercaster 📽️ (@ScooterCasterNY) January 9, 2023
A spokesperson for Mount Sinai told Bloomberg negotiations failed around 0100 ET after NYSNA rejected a 19.1% wage increase agreed to by eight other hospitals, including two other Mount Sinai health campuses.
Mount Sinai spokesperson Lucia Lee said elective procedures were suspended today, and infants from its neonatal intensive care units were transferred to other hospitals in preparation for the labor action. 
*  *  *  
Thousands of nurses from New York City hospitals could strike as early as Monday morning if unions and hospitals cannot agree on tentative contract agreements by midnight. 
York State Nurses Association (NYSNA) President Nancy Hagans said at a press conference Saturday that 8,700 nurses will strike at 0600 ET Monday if no agreement is reached with hospitals by 2359 ET Sunday.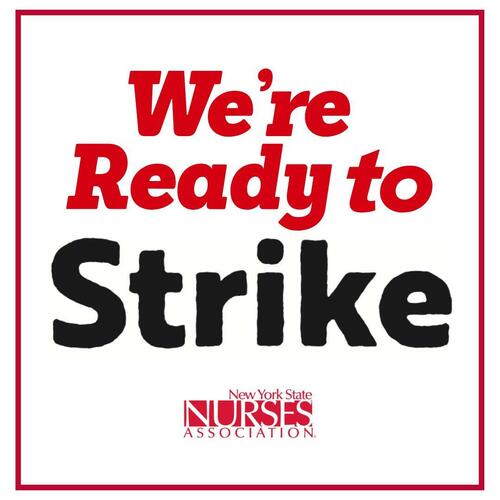 BronxCare and The Brooklyn Hospital Center have already reached tentative agreements with the union to increase wages, better health benefits, and improve safe staffing levels. Still, Mount Sinai, Mount Sinai Morningside, Mount Sinai West, and Montefiore are hospitals that have yet to reach deals with the union. 
ABC7 New York said Mount Sinai is preparing for a strike. The hospital began moving newborns under intensive care and vulnerable patients to other hospitals this weekend amid the looming labor action. The hospital could also cancel non-emergency procedures. 
Hospitals are canceling elective surgeries & moving NICU babies as 10,000 NYC nurses prepare to go on strike next week. @CBSNewYork https://t.co/uCNw5hVscA pic.twitter.com/V4LijcjGpv

— Ali Bauman (@AliBaumanTV) January 7, 2023
Mount Sinai's chief nursing officer, Dr. Frances Cartwright, railed against the strike threat:
"Talk about vulnerable patients, defenseless little babies.

 "We can't wait until Monday, we have to plan. I sure am hoping for the best, but you have to plan for the worst." 
An internal memo from Mount Sinai informed staff of "aggressive planning in response" to a possible strike tomorrow, which would include "diverting a majority of ambulances," beginning "to cancel some elective surgeries ... will perform emergency surgery only," "starting to transfer patients" to other hospitals and "working to discharge as many patients as appropriate safely."
New York Gov. Kathy Hochul said days ago her "full expectation is that this will be resolved because there is no alternative." 
Tyler Durden
Mon, 01/09/2023 - 07:58