China Extends Aggressive Gold Buying With Another 30 Tons Purchase In December
January 8, 2023 | Tags: ZEROHEDGE
China Extends Aggressive Gold Buying With Another 30 Tons Purchase In December
One week ago, in his latest - and arguably most important note of 2022 - Credit Suisse repo guru Zoltan Pozsar discussed the two key anchors of the Bretton Woods III regime he believes will replace the world in which the dollar is a reserve currency: i) commodity encumbrance (i.e., rehypothecation) and ii) the Petroyuan, and - intertwined inbetween them - China's aggressive accumulation of gold.
This was hardly a coincidence: just a few weeks earlier, we learned that for the first time in years, China had bought 32 tons of gold in the month of November, its first official purchase since September 2918 (even as it had unofficially been buying up much more gold over the past three years). We added the following:
Back in March we pointed out that according to JPMorgan, "while the world is short on commodities, China is not given they have started stockpiling commodities since 2019 and currently hold 80% of global copper inventories, 70% of corn, 51% of wheat, 46% of soybeans, 70% of crude oil, and over 20% of global aluminum inventories." And now, China is aggressively stockpiling every ounce of physical gold it can get its hands on. Almost as if China is actively preparing for war.
And while our conclusion appears spot on, especially in light of Zoltan's latest just published note which we will discuss shortly, what is just as notable is that for the second month in a row, China reported an increase in its gold reserves topping up holdings again after its first reported purchase in more than three years.
The People's Bank of China raised its holdings by 30 tons in December, according to data on its website on Saturday. This follows November's addition of 32 tons, which was the country's first reported inflow since September 2019. Prior to that, the last previous increase was in October 2016. The recent official purchases bring the nation's holdings to a total of 2,010 tons.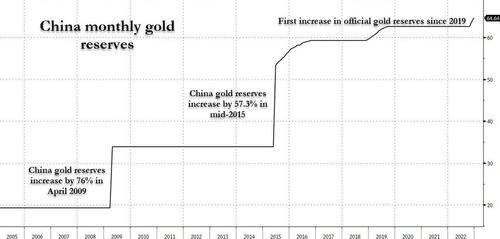 As reported last month, central bank purchases of bullion hit a record in the third quarter of last year at almost 400 tons, with only a quarter going to publicly identified institutions, according to the World Gold Council's demand trends report. Since then, China's disclosure of its gold buying confirms that the identity of the no-longer mystery buyer; and in keeping with Pozsar's thesis, market watchers speculate that Russia, whose gold holdings are near all time highs...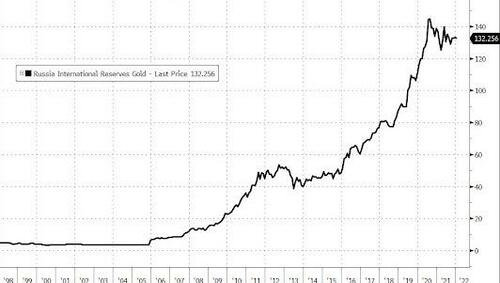 ... could be another purchaser.
Additionally, China's end-December foreign currency reserves rose $10.2 billion from the previous month, and totaled $3.13 trillion at the end of last month, People's Bank of China data showed on Saturday. Asian nations have been replenishing their war chests amid waning dollar strength.
With its aggressive December purchases, China was likely once again the biggest buyer of the yellow metal in the open market: according to the World Gold Council, central banks bought a further 50 tonnes on a net basis during the month, a 47% increase from October's (revised) 34t.1 Of this net total, three central banks accounted for gross buying of 55t, while two largely contributed to gross sales of 5t , showing the strength of demand.
The Central Bank of Türkiye continued to buy gold in November, adding a further 19t to its official (central bank + Treasury) reserves.2 This lifts its YTD net purchases of gold to 123t – the largest reported by any country – and its official gold reserves to 517t (27% of total reserves). The Central Bank of the Kyrgyz Republic added to its gold reserves for the first time this year, buying 3t in November to increase its total gold reserves to 16t (+61% YTD).  
On the sales side, the National Bank of Kazakhstan and the Central Bank of Uzbekistan were the largest sellers. Kazakhstan reduced its gold reserves by around 4t to 380t (-5% YTD), while Uzbekistan's gold reserves fell by almost 2t to 397t, 10% higher YTD. We have noted previously that it is not uncommon for central banks who purchase gold from domestic sources - as both Kazakhstan and Uzbekistan do - to also be frequent sellers of gold.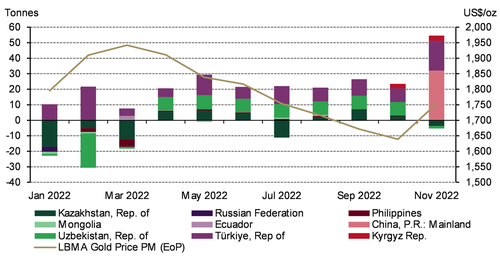 The record purchases of gold by central banks has been one of the highlights of the gold market in 2022, having bought a net 673t between Q1 and Q3.  Looking ahead to the full year picture, it's likely  that central banks accumulated a multi-decade high level of gold in 2022, a number which will be revealed officially in mid-January.
Tyler Durden
Sun, 01/08/2023 - 14:00