ZH Geopolitical Week Ahead: Chaos In Brazil, China Reopens Borders, Heavy Tanks For Ukraine
January 9, 2023 | Tags: ZEROHEDGE
ZH Geopolitical Week Ahead: Chaos In Brazil, China Reopens Borders, Heavy Tanks For Ukraine
A weekly round-up of geopolitical flashpoint and energy news we're keeping our eyes on, and trends impacting global markets, which will later be accessible for Premium members and above...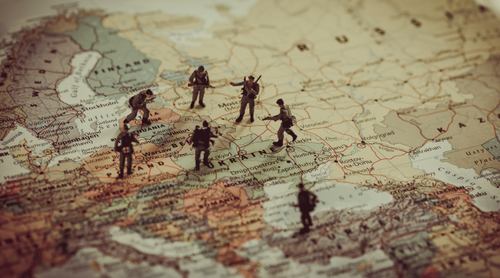 With the smoke still clearing from Brazil's capital amid the pro-Bolsonaro unrest, Lula is ready to go on the offensive and 'punish' the 'rioters' and so-called "terrorists", with the to-be-expected comparisons to Jan.6 filling mainstream headlines. Bolsonaro himself has been in Florida since last month, and Monday was admitted to the hospital, but there's growing calls from US progressive lawmakers to cancel his visa. This despite widespread admissions, including from the NYT, that he called on his supporters to allow for peaceful transition of power, and to essentially 'move on'. Brazil's currency slipped in the immediate aftermath, with uncertainty in still spooked Brazilian markets after volatile trade amid the initial 'shock' of the capital chaos...
Brasil events meant that media consumers were given a brief respite from non-stop Russia-Ukraine developments dominating headlines, as CNN and others focused on scenes of the weekend chaos which gripped Brasilia. And yet the conflict in Eastern Europe is still escalating, with the Kremlin on Monday stressing it sees itself as already at war with NATO inside Ukraine. This as Western allies, with the UK leading the way, are now weighing heavy tanks for Ukraine, and not just the troop carriers or 'light tanks' earlier pledged by France and the US. The West continues to go 'all in' regarding keeping Kiev away from the negotiating table, as was on display concerning Putin's failed Christmas truce attempt. Zelensky is meanwhile thanking Washington for the latest $3 billion "Christmas present". The White House is touting that Ukraine aid is "rock solid" through at least 2023.
China continues its big reopening amid its Covid strategy pivot, with reports of Chinese citizens scrambling to get their passports in order, perhaps just waiting anxiously for a reversal by Beijing authorities and planners. But reports of huge numbers of infected amid the Covid wave continue unabated for now. China and the US keep signaling over Taiwan, with the Chinese PLA steadily ramping up war drills and muscle-flexing, with breaches of the Taiwan Strait median line now becoming a regular thing. The US-Taiwan trade delegation talks - with the involvement of Biden administration officials - are set to kick off Saturday, with Beijing's reaction anticipated to be fierce. 
Below are global developments we are closely following this week...
Russia-Ukraine
China-Asia
Middle East
Latin America/World
Energy
Tyler Durden
Mon, 01/09/2023 - 17:20