A Day In The Life: Southern California's Fentanyl Crisis
January 10, 2023 | Tags: ZEROHEDGE
A Day In The Life: Southern California's Fentanyl Crisis
Authored by John Fredricks via The Epoch Times,
"I don't even know if I will be alive tomorrow. I might OD tonight," Pete—a pseudonym—told The Epoch Times.

"You are talking to a drug user right now and that's the name of the game."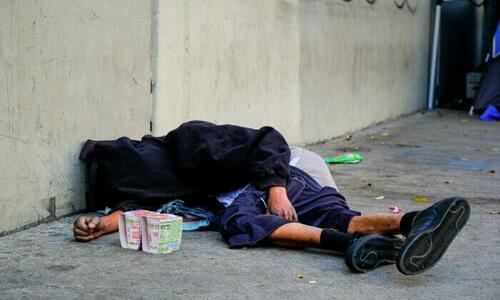 The 34-year-old comedian has been using the opiate fentanyl since the emergence of the coronavirus pandemic and commonly checks in and out of rehabilitation centers. With his addiction, he wakes up some mornings homeless on the streets of Southern California.
"You are talking on the phone to a guy about to get his drugs right now," he said slurring his words off of Huntington Beach's 17th Street. "And you just missed me getting shaken down by some guy over here."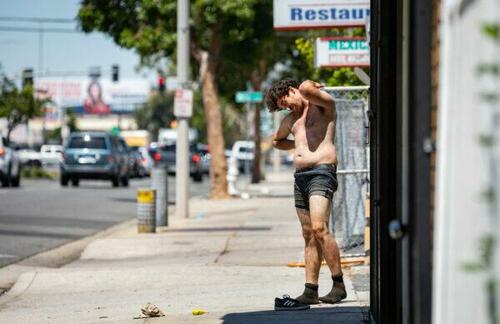 A homeless man contorts his body while working off a drug high in Santa Ana, Calif., on June 28, 2022. (John Fredricks/The Epoch Times)
The "guy" Pete was referencing, a drug dealer, did not give Pete the drugs he wanted. Instead, he paid a nearby homeless individual $80 to help him track down a dealer.
"I would say that the easiest cities to get [fentanyl] in Orange County would be either Costa Mesa or Santa Ana," Pete said the morning after being arrested for public drunkenness by Newport Beach Police.

"You can ask any homeless person and they can tell you where to find fentanyl to inject or smoke," he said.
Dealers which are nicknamed "Fentanyl Fairies" blend in with local homeless populations, even sometimes pushing shopping carts that appear to be filled with their belongings.
There's a "connection with homelessness and fentanyl," Pete said.
"When you are selling everything to feed your own addiction, you become homeless. Dealers look homeless and sell to the homeless."
A Record Year
As 2022 came to a close, the U.S. Drug Enforcement Agency announced a record-breaking seizure of over 379 million deadly doses of fentanyl throughout the country.
United States Customs and Border Protection agents also faced their busiest year on record regarding fentanyl seizures. According to the Department of Justice, 60 percent of apprehensions occurred in California's Imperial and San Diego counties with more than 5,000 pounds of fentanyl confiscated from drug traffickers, just in the first nine months of the year.
In San Diego County, the drug has been declared a public health crisis response with homeless individuals experiencing the greatest increase of deaths from fentanyl over the last three years, according to county officials.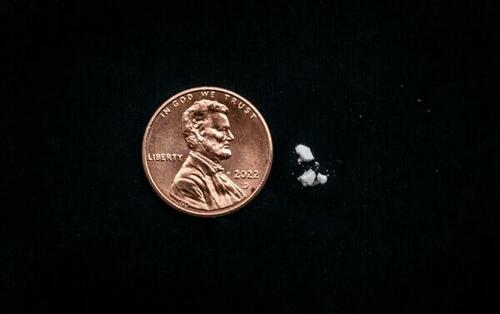 Mock sizing of a potentially lethal dose of fentanyl in a file photo. (John Fredricks/The Epoch Times)
"From 2020 to 2021, the number of fentanyl overdose deaths increased by 90 percent among the unhoused population versus a 32 percent increase among individuals who were not experiencing homelessness," County of San Diego spokesperson Fernanda Lopez Halvorson, told The Epoch times.
According to Lopez Halvorson, the county is now saturated with naloxone, known best by its brand name Narcan, to reverse and block the effects of opioids, such as fentanyl.
"The overarching goal is to distribute 33,000 naloxone kits by June 30, 2023," Lopez Halvorson said.

"Overdose deaths are preventable using a comprehensive approach that includes widespread public messaging on the risks of fentanyl and offering naloxone, a safe medication that can reverse an opioid overdose, and an effective treatment for opioid use disorder."
At 50 to 100 times more potent than heroin, deaths caused by fentanyl are on the rise in Southern California as the powerful opiate continues to be used more as a substitute ingredient for illicit drugs due to its powerful effect at a cheaper cost. Often, officials say, San Diego is a first stop for smugglers.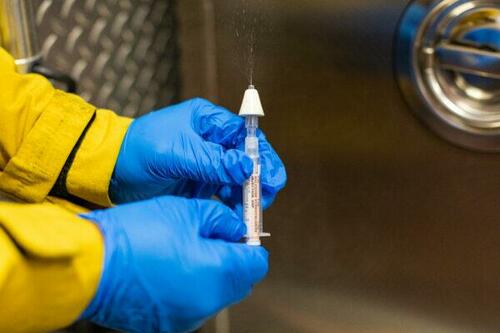 A firefighter displays Narcan, a lifesaving medicine used to treat drug overdoses, on Feb 26, 2021. (John Fredricks/The Epoch Times)
Just in north Orange County, fentanyl deaths among the homeless population continue to increase in Santa Ana and Anaheim, both of which topped the lists for homeless deaths involving the drug in 2020, according to the Orange County Sheriff's Department (pdf).
In Santa Ana, which recorded the most homeless deaths involving fentanyl, all officers are now equipped with naloxone, according to the Santa Ana Police Department.
"With fentanyl being such a potent drug, our officers are instructed to take additional precautionary measures when handling this," Santa Ana Police Department Sgt. Maria Lopez told The Epoch Times.

"Our officers are trained in the use of Narcan and administer the medication when they suspect opioid overdose."
Further north, in Long Beach, medics recently shared having to use Narcan multiple times in one week on the same person.
"Usually when it's a fentanyl [overdose], most of these people have what we call the 'agonal breathing.' They look like they're dead and they might be close to death, but they're breathing maybe once every minute or so with unbelievably small pupils," one Long Beach firefighter told The Epoch Times.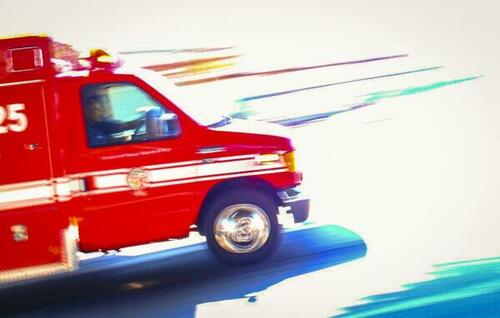 A fast driving ambulance navigates the Los Angeles streets on April 4, 2012. (John Fredricks/The Epoch Times)
As a first responder, the firefighter said he has become all too familiar with two usual responses of recovering someone who has overdosed on fentanyl.
"More times than not, they are kind of mad at you for ruining the drug high that nearly killed them," he said.
The other response, he said, is projectile vomiting.
The Los Angeles County Department of Medical Examiner-Coroner's office, which oversees Long Beach, told The Epoch Times that the total number of homeless deaths involving fentanyl as a contributing factor was 310 cases, with cases still pending to the yearly total.
Sign of the Times
Along 1st Street in Santa Ana, on a recent day, a man began stripping off his clothing and started clawing at the sky. Working up a sweat as the veins in his arms and head began to protrude, he suddenly bent forward with convulsions in what is known as "nodding out"—body language for an individual working off a fentanyl high.
Just blocks away a group of about 10 who appeared homeless gathered under shelter at Birch Park as rain began to fall.
"I've got a prize for you!" one man said, between toppling two metallic poles together, pointing his chin toward four homeless individuals to his right.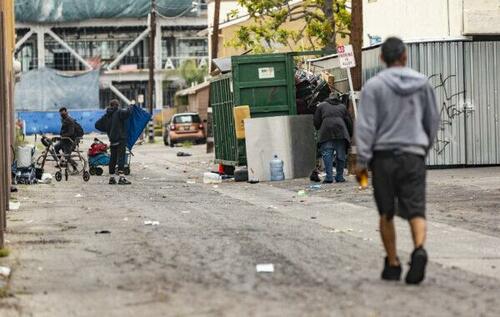 A homeless encampment in Santa Ana, Calif., on Oct. 5, 2021. (John Fredricks/The Epoch Times)
There, two men and two women in their mid-to-late 20s passed around a zip-locked bag of an off-white, powder-like substance. They were surrounded by others passed out on benches next to trash bags filled with dirty blankets and comforters.
A clean-shaven Hispanic man, who appeared to be in his late 50s walked toward the group asking if they wanted money.
"Nah, we're alright," one of the women said. "We'll take some cigarettes, though."
The man then approached them, placing both knees on the ground before exchanging his cash for a smaller cut of the group's product.
Then the man with the metal poles began to tap them together at an even faster pace, showing the whites of his eyes as they locked on the man who then retreated.
During 2022, fentanyl seizures increased 594 percent throughout the State of California, according to the office of Gov. Gavin Newsom.
Tyler Durden
Tue, 01/10/2023 - 22:45