Jeff Gundlach Live Webcast: "What's Going On?"
January 10, 2023 | Tags: ZEROHEDGE
Jeff Gundlach Live Webcast: "What's Going On?"
It's that time again when DoubleLine CEO Jeff Gundlach lays out his vision for the full year, and speaks about the economy, markets and his investment outlook in what he dubs his "biggest webcast of the year" called "Just Markets."
Heading into today's webcast titled "What's Going On", a homage to Marvin Gaye, Gundlach told CNBC in a December interview that he believes the Fed should stop hiking rates, although he thinks the FOMC will increase rates one more time — by 25 bps in February. The DoubleLine CEO also says a recession is imminent, predicting a roughly 75% probability that the economy falls into one.
Additionally,  in the same interview, Gundlach said the inflation rate could fall faster than most believe and may even fall to zero when it drops. Gundlach, one of the biggest names in bond investing, also noted that the bond market has "completely priced in the fact that inflation" has peaked and is receding.
The bond market has begun 2023 very much in rally mode, challenging a Fed looking to push rate policy to at least 5% this year. The market state of play was endorsed by Gundlach, who tweeted this on Friday after jobs and ISM services data:
The highest yield on the US Treasury curve is the six month T-Bill, at 4.8%.

There is no way the Fed is going to 5%.

The Fed is not in control.

The Bond Market is in control.

— Jeffrey Gundlach (@TruthGundlach) January 7, 2023
A quick look back one year ago to his last "Just Markets" presentation in Jan 2020, which was titled "I Feel Young Again", here are some of his predictions:
Gundlach focused heavily on signals that the US economy could be weakening, saying that "I do think recessionary pressure is building."
He suggested inflation would remain elevated through the first part of 2022 and could "peak out."
The Fed "seems pretty far behind the curve when you consider wage growth," which has risen significantly, he said.
Gundlach said Fed officials will likely follow the message of two-year Treasury yields and will likely get the federal funds rate to about 1.5% before causing economic pain.
He reinforced long-term bearish call on the dollar and long-term bullish call on gold. He said he thinks US stocks are highly valued versus overseas stocks.
Looking ahead it will be interesting if, as Bloomberg's Chris Antsey writes, Gundlach will fall in line with the markets or with the Fed when it comes to whether rate cuts are in the offing later this year. Interest-rate futures reflect expectations for roughly a half percentage point of cuts by year-end once the Fed gets its target to around 5% in the spring.It will also be interesting to get Gundlach's view on inflation dynamics with China reopening. China's economy is going through a big negative wave just now as the pandemic imposes a big human toll. But after some time, consumer spending — both at home and abroad through tourism — is bound to soar. How will that reverberate through to US inflation?
With that, readers can join the free webcast by clicking on the chart below.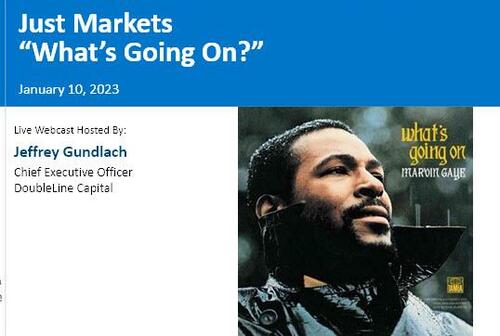 Gundlach wastes no time to slam 2022 as a miserable year, which he says was the worst year of his career in terms of benchmark returns for fixed income, and then proceeds to immediately lay in to the Fed, saying that the bond market signals  - correctly - that there is no way the Fed will hike to its target above 5%...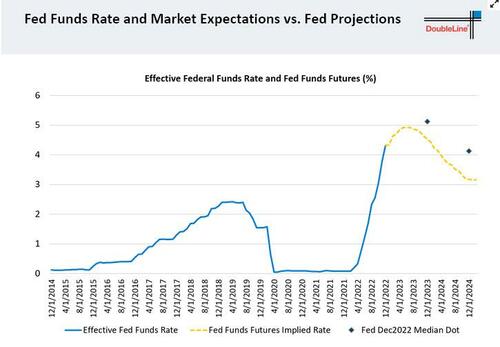 ... and instead it is the bond market that is in control and always has been: quite simply, "The Fed follows the 2Y Treasury."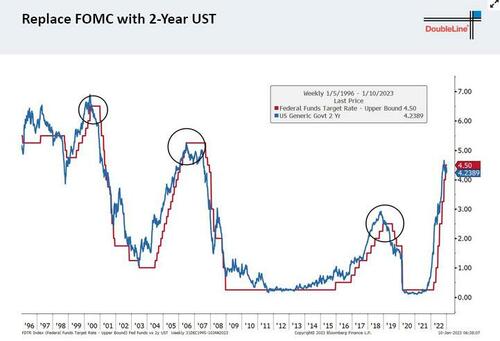 Gundlach then gives a preview of what he thinks the Fed's next QE will look like (expect it to be much bigger than QE4)...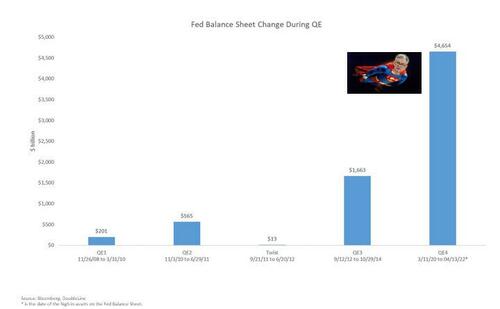 ... if no other reason than it will soon have to monetize not only the debt but the interest on this debt, which he calculates as rising to $1.25 trillion per year if the US deficit rises by $1TN and rates stay at 4%.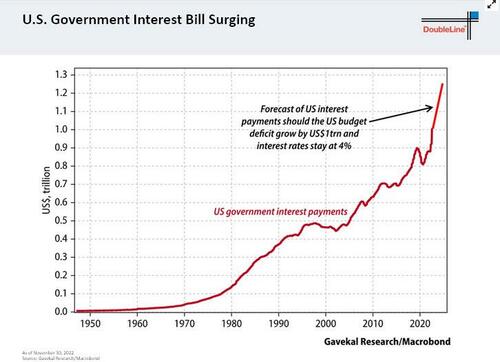 Playing devil's advocate, Gundlach says that he would love to see a Fed that wasn't doing quantitative easing because it manipulates things, adding that "we'll see if they can resist the temptation to do quantitative easing yet again." (spoiler alert: no).
When could QE restart? Well, according to Zoltan, this will happen as soon as this summer (see here) and it will be great news for the tech companies that have been crushed courtesy of their 1.00 correlation to the Fed's balance sheet.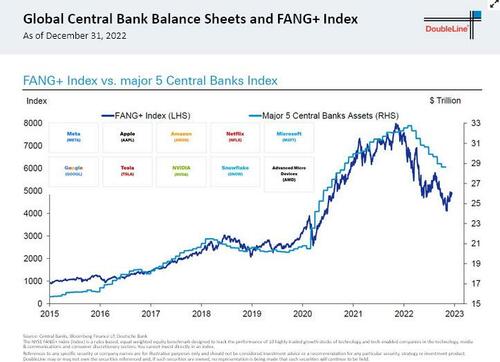 Speaking of QE, Gundlach says that if they do QE, "my suspicion is the circumstances will be sufficiently dire", such as a recession, and according to Gundlach one will happen once the unemployment rate crosses above the 12 month moving average of the unemp rate, traditionally a fail-safe recession indicator. At this rate it will be in a few months. 
In any case, the unemployment rate is "the last man standing," he says. Other more accurate indicators, such as the leading economic indicators index "certainly" has the look of recession in it, he says, as does the  ISM purchasing manager surveys as also suggesting the US is heading into the "front end of a recession." Also don't forget the yield curve inversion, that too is screaming recession, Gundlach says.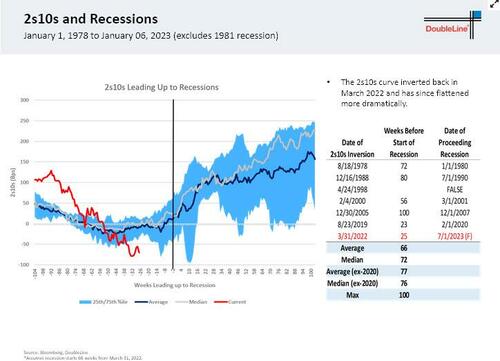 Thanks to the strong increase in interest rates and widening of spreads in credit products, the bond market is much cheaper than the stock market — even after equities sold off, he says. Eyeing the equity risk premiun, Gundlach says that the bond market is much cheaper than the stock market, he says. It is not rich anymore and "The downside in bonds is less than stocks."
As a result, instead of a traditional 60/40 portfolio, Gundlach says he recommends a 60% bond allocation, 40% stocks. Or even better, a 60-25-15  portfolio with 15% in "other" investments.
Going back to inflation, or rather disinflation, Gundlach is skeptical that inflation will drop from 9.1% to 2.0% and "magically stop there" - it's "absurd" he says, and adds that if inflation goes to 2% over the course of 2023, it will turn negative. He also notes that if  the Fed is so aggressive and they do make it happen, the inflation rate will go below 2%. In fact, if the Fed can make this happen in 2023, the rate may go to zero, he added.
Looking at stocks, Gundlach distinguishes between the cap weighted and equal-weighted and recalls when he told markets to get out of the cap-weighted and into the equal-weighted index a year ago, a trade which has done very well now that the gigagap tech "generals" have fallen. "One of the greatest trades was to get out of the market-cap weighted S&P and go to the equal weighted," he says, referring to a reco he made just to that effect.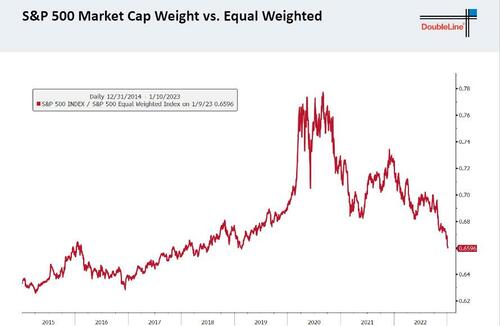 A similar trade is going short the Nasdaq a year ago vs the S&P: here the relative value surpassed the dot com bubble levels, but is now rapidly sliding.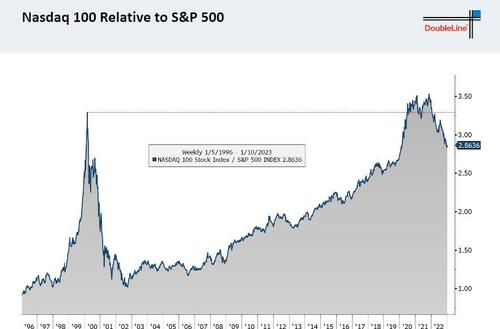 Pair trades aside, Gundlach echoes Michael Hartnett who last Friday said "buy the world" (not the US), and Gundlach agrees, saying "I recommend zero US equities" and instead urges listeners to buy ROW, Europe and Emerging Markets over the US: "I prefer emerging market equities" he said, especially if the EM Currency Index can rise above the 200 DMA which would be a "massive tailwind."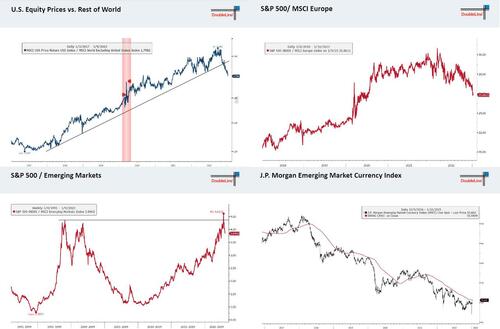 And if the US is set to underperform, so is the dollar: "I think the dollar is headed lower," he says. "I don't think it's heading to 115," referring to the dollar spot index."
Looking ahead, Gundlach says that he is "very excited" about 2023 because one year ago, bonds and stocks were "hopeless" and "you knew you were headed into a horror show" but now there is a lot of ways to "risk-mingle and risk-hedge with fixed income."
Much more in Gundlach's full presentation below:
Tyler Durden
Tue, 01/10/2023 - 17:04