Phoenix Sued After Giving the NFL Power To Censor Signs on Private Property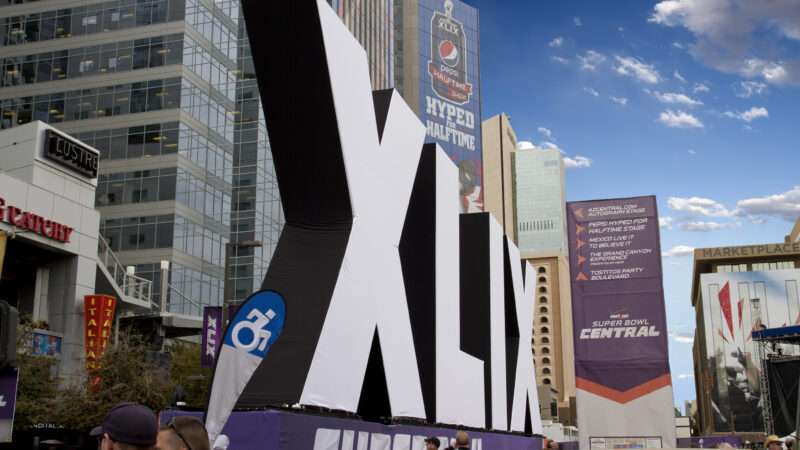 An Arizona businessman is suing the Phoenix city government over its ban on displaying temporary signage on private property downtown that hasn't been preapproved by the National Football League (NFL) and a private Super Bowl host committee.
"The city of Phoenix is letting the NFL decide what I can and cannot say on my own property. That's not right," said Bramley Paulin, the owner of two properties affected by the signage restrictions. This week, Paulin filed a lawsuit against the city in state court, claiming those restrictions have cost him advertising business and violate his free speech rights.
The Super Bowl is being held next month in neighboring Glendale, Arizona, and Phoenix is hosting a running outdoor festival in its downtown in the run-up to the game. To prepare for the festivities, the city government passed a resolution in October 2022 that requires all temporary signage in a designated "clean zone" to receive preapproval from the NFL and the Arizona Super Bowl Host Committee.
City officials have said that censorship is necessary to prevent Super Bowl revelers from being scammed and to protect the investments of the NFL and its partners from competing advertisements.
"The NFL sponsors are making a huge financial commitment to be one of those designated sponsors, and we need to provide that protection to those sponsors in the downtown area where a lot of the Super Bowl events are happening," said a staffer.
Thanks to the city's signage restrictions, Paulin says he's effectively been robbed of his ability to rent lucrative ad space on his properties to clients.
"It's a blanket prior restraint on speech," John Thorpe, an attorney with the Goldwater Institute, told Reason last month. "There are no guidelines, no criteria they give for what the NFL or the [Arizona Super Bowl Host] Committee are allowed to base their decisions on."
In December, Thorpe sent a letter to the Phoenix city government outlining the constitutional problems he saw with its signage restrictions and asking that it affirm in writing Paulin's right to host advertisements on his property without unreasonable restrictions.
With no such assurances coming from the city, Paulin and Goldwater filed their lawsuit in the Superior Court of the State of Arizona in and for the County of Maricopa.
Paulin's complaint argues that signage restrictions violate the Arizona Constitution's protections of free speech and due process. The lawsuit also says that the city's policy unconstitutionally delegates authority to private parties—in this case, the NFL and the Arizona Super Bowl Host Committee.
The lawsuit asks the court to declare the city's signage restrictions unconstitutional and the city barred from enforcing them.
The post Phoenix Sued After Giving the NFL Power To Censor Signs on Private Property appeared first on Reason.com.