Why Britain's Prime Minister Prefers To See a Private Doctor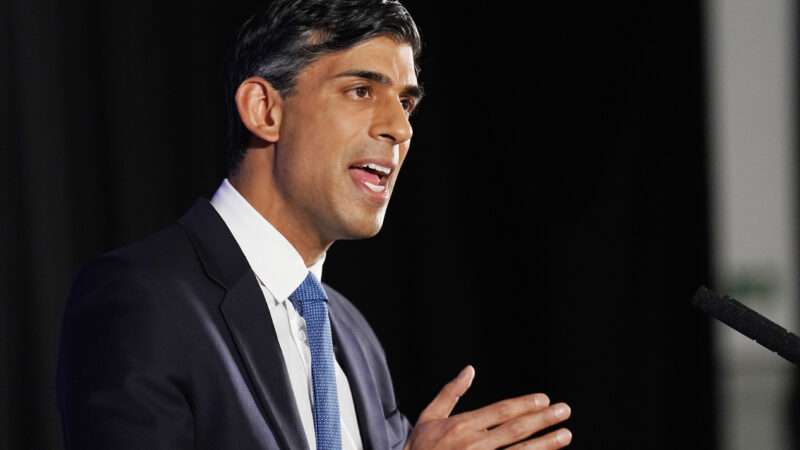 After weeks of speculation, the Brits have discovered the shameful truth: Prime Minister Rishi Sunak has indeed used private health care in the past. The conservative head of the United Kingdom has been quick to add that he has always been registered with a National Health Service (NHS) general practitioner and that his family has received "fantastic care" from an NHS hospital in his constituency, but that isn't keeping British people from thinking him a hypocrite.
To American observers, the story is a total snoozefest. So the British P.M. received care from a private entity—what's the big deal? U.S. politicians go to private providers all the time. But in the U.K., people would rather everyone get equal access to bad care than risk some people obtaining better care because they can afford it.
The Britons' outrage is warranted. Sunak is an ardent defender of the NHS, having religiously cheered for the institution while COVID-19 was battering his country. Yet it turns out, when push comes to shove, the P.M. can't trust the system with his health. He may give lip service to the NHS, but his personal preference is for private health care—and with good reason.
Over the past few weeks, the NHS has reached a breaking point, and it is in that context that Sunak's access to private care has become a contentious subject. The millions of Britons who can't afford the fancy care their P.M. received are one health emergency away from a living nightmare.
Nurses and ambulance staff have been striking all over the U.K. for several weeks now in protest of dire staffing and payment conditions, and patients are paying a high price for the upheaval. People are waiting for hours for an ambulance to arrive. Once they make it to the hospital, they have to wait again, sometimes for days, before being admitted to the emergency room.
While the severity of the crisis the NHS finds itself in today cannot be overstated, the NHS was showing alarming signs long before the pandemic. COVID broke the system, with employees quitting in droves and those who remained enduring immense stress. Wait times exploded during the pandemic, such that over one in 8 Britons is currently on a waitlist for medical care.
Sunak's pending reform goal tells the whole story: that no Briton be made to wait longer than a year to be treated by the NHS. A year! To Americans, that seems like an inconceivable amount of time to wait for medical care. Yet, in countries with single-payer systems, patients have grown increasingly accustomed to extreme wait times.
An analysis published in October 2022 indicated that 230 NHS cardiac patients died every week waiting for urgent care during the pandemic. Indeed, as of August 2022, the average wait time for an ambulance in the U.K. was nearly an hour. 
This issue isn't particular to the U.K.; it's playing out north of America's border as well. Canada, which has a tax-funded health care system similar to the U.K.'s, is in the running for being the worst among developed countries at providing timely medical care.
Only occasionally do stories of lethal wait times make headlines, like in the case of this Canadian man whose 37-year-old wife and mother of three died this month waiting in the emergency room. It's no wonder that Canada has resorted to offering medically assisted suicide as a state-funded alternative: The gruesome policy has the morbid merit of giving Canadians agency over their fate.
Before we mock the ghoulish situation in which our socialized medicine–loving neighbors find themselves, America would do well to take a hard look at our own shortcomings.
Stateside, politicians also like to tout the glories of programs that they themselves avoid, such as Medicaid, the nation's top payer of care for low-income people. Elites are gleefully bestowing Medicaid coverage upon the working class, but they'd sooner leave office than spend a day on the welfare program themselves. They're doing all they can to keep people on it, even as the program is failing beneficiaries and trapping them in poverty. 
At least in the U.S. no one bats an eye when people seek out the best care they can buy. But in the U.K., where it's the NHS or the highway, politicians are shunned for having common sense. Let's heed the lessons other countries are learning the hard way and preserve the little bit of health care freedom we still enjoy.
The post Why Britain's Prime Minister Prefers To See a Private Doctor appeared first on Reason.com.