Mayor Says NYC Being "Undermined", Has "No More Room" For Illegal Immigrants
January 16, 2023 | Tags: ZEROHEDGE
Mayor Says NYC Being "Undermined", Has "No More Room" For Illegal Immigrants
Authored by Katabella Roberts via The Epoch Times,
New York City mayor Eric Adams has taken aim at the Biden administration for failing to take action and enact immigration reform to stem the illegal immigration crisis at the southern border while declaring there is "no room" in New York City for the "migrants" being sent to the city.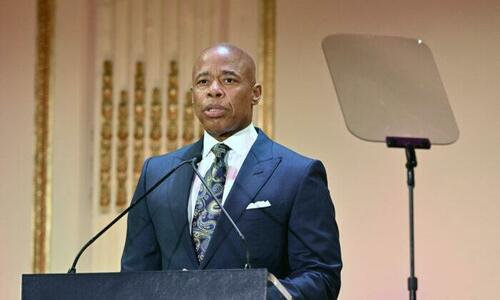 Adams, a Democrat, made the comments during a visit to the Texan border city of El Paso on Jan. 15 where he was joined by El Paso Democratic Mayor Oscar Leeser.
Busloads of illegal immigrants have been shipped to Democratic-run sanctuary cities such as New York, Washington, Chicago, Houston, and Los Angeles in recent months, which has placed a strain on those communities as has been the situation in border towns for many years, and in some cases, has further exacerbated an already existing housing and homeless crisis.
Adams said on Sunday that migrants are being given a "false impression" about what to expect in New York via websites advertising that the city is home to automatic employment opportunities and will house migrants in hotels, as opposed to offering sheltered housing.
"There's a conversation among those who are asylum seekers and migrants who are given the false impression that if you come to New York City, everything is fine. We have to give people accurate information," Adams said, according to The New York Post.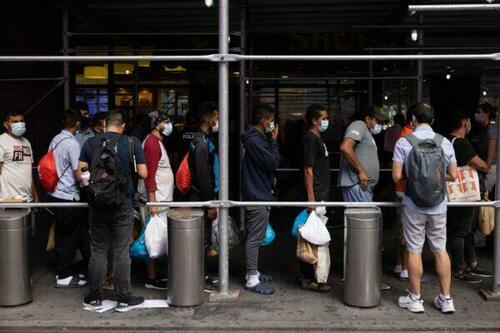 A group of migrants from Texas wait in line outside Port Authority Bus Terminal to receive humanitarian assistance in New York on Aug. 10, 2022. (Yuki Iwamura/AFP via Getty Images)
"And that is what some of the centers are doing here. They are truly explaining to people that this is what is happening in New York right now. In New York, you go there, you're going to be living in congregate settings, and there is no more room in New York. That should be coordinated by our national government," Adams added.
A National Emergency
The New York mayor also called for a coordinated response to the crisis within cities seeing an increase in arrival of illegal immigrants, which he said should be aided by the Federal Emergency Management Agency (FEMA).
"This is a national emergency and crisis that must be addressed," he said, while urging lawmakers in the U.S. Congress and the Biden administration to enact immigration reform.
Adams made similar remarks on Jan. 13, when he said New York City was at "breaking point" and would likely be unable to continue sheltering illegal immigrants arriving at the city without help from the federal government.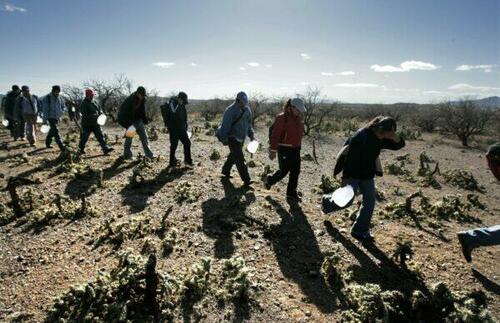 Lugging gallon jugs of water, illegal immigrants thread their way along footpaths just north of the Mexico/Arizona border. The numbers of illegal immigrants who have perished trying to cross the southern Arizona desert has reached an historic high this year. (Don Bartletti/Los Angeles Times)
'We Don't Deserve This'
"We are now seeing more people arrive than we have ever seen—averaging over 400 people each day this last week, with 835 asylum seekers arriving on one single day alone, the largest single-day arrival we've seen to date. All this is pushing New York City to the brink," Adams said.
The mayor said the city had submitted an emergency mutual aid request to the State of New York, starting the weekend of Jan. 13, which initially asks the state for support in accommodating 500 arriving asylum seekers, although he stressed that the number will "balloon" in time.
Adams has previously said that the influx of migrants into New York could cost the city as much as $2 billion—money that the city will struggle to grant as it deals with a major budget shortfall.
The number of illegal immigrants crossing the border has surged during Biden's first two years of presidency, with border patrol agents making more than 2.2 million arrests at the U.S.-Mexico border in the 2022 fiscal year, which ended in September.
New York is currently housing around 26,000 illegal aliens, and another 3,100 arrived in the last week-and-a-half, Adams said on Sunday.
"Our cities are being undermined," Adams said. "And we don't deserve this. Migrants don't deserve this and the people who live in the cities don't deserve this.
"We expect more from our national leaders to address this issue in a real way."
Tyler Durden
Mon, 01/16/2023 - 12:10