Pennsylvania's New Governor Dumps Excessive College Diploma Demands for State Jobs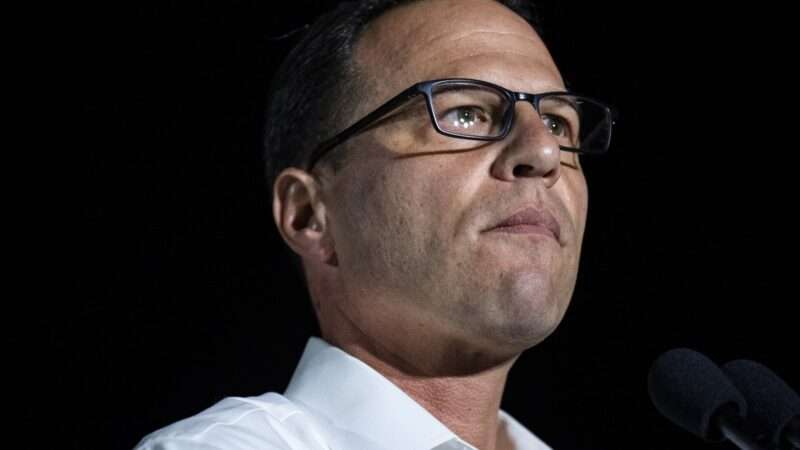 If a new governor's first act sets the administration's tone, Pennsylvania's Josh Shapiro is making it clear he is not planning to help the government's regulatory and education establishments ratchet up licensing and credentialing demands on people looking for work.
Shapiro, a Democrat, was sworn into office on Tuesday. For his first executive order released Wednesday, he announced he was opening up thousands of Pennsylvania government jobs to people without college degrees.
"Effective immediately, 92% of all Commonwealth jobs do not require a four-year degree, roughly equivalent to 65,000 jobs," he writes in the order. "Consistent with this Administration's commitment to emphasizing skills and experience, job postings will begin with equivalent experience needed in lieu of a college degree whenever possible."
For the remaining 8 percent of jobs, he is ordering Pennsylvania's secretary of administration to review the positions to determine which of them, if any, could be revised to allow for practical experience to serve as a substitute for a college degree.
"Every Pennsylvanian should have the freedom to chart their own course and have a real opportunity to succeed. They should get to decide what's best for them—whether they want to go to college or straight into the workforce—not have that decided for them," Shapiro said when he announced the order Wednesday.
It's a big deal that Shapiro is going this route after absolutely trouncing Republican state Sen. Doug Mastriano in the November election. The Democratic Party's strong connections with education unions and college administrations often mean politicians push for more students to attend college. The typical response to the rising demand for college degrees in the work force (and the rising costs of college) from Democrats has been fiscally irresponsible programs like loan forgiveness and more government subsidies (all the way up to and including free college), pumping more taxpayer money into the system and into the pockets of the people who control it.
It's remarkable, then, for a Democratic governor to turn around and say "You know what? We actually don't need to be sending everybody to college in order for them to be successful." Shapiro's first act drew positive attention from Nate Hochman over at the National Review, who appreciates the countermeasures to the very real issue of "diploma inflation" in the United States:
The growth in the share of U.S. jobs that require a four-year college degree is partially owing to a broader shift away from physical-labor-based industries and toward information and knowledge economies. But it's also due to a misguided, and often toxic, cultural and political trend toward viewing college degrees as a prerequisite for participation in American public life. Among technocrats on both the center-right and center-left, there's often a flawed assumption that a central goal of U.S. education policy should be to get as many young Americans as possible into four-year programs, rather than to open up other pathways and models for success.
A widely cited Harvard Business School study from 2017 explains how employers (both government and private) have been increasingly demanding college degrees from people applying for jobs, even when they're not required and even when workers already in that particular occupation don't have degrees. The report uses the position of a supervisor of production-level workers as an example. Researchers investigated current job openings for the position and found that 67 percent of the listings demanded college degrees in order to be considered for the position. But they also found that only 16 percent of people who were already working in this very position had degrees. Were all those people doing jobs they weren't qualified to do? Probably not.
Shapiro's move follows on the heels of similar reforms by former Maryland Gov. Larry Hogan and current Utah Gov. Spencer Cox. Both of those men are Republicans, which again highlights how significant it is that this is Shapiro's first major act. Unsurprisingly, the Pittsburgh CBS affiliate reports that Republican state Senate Majority Leader Joe Pittman is pleased by Shapiro's act, saying, "Governor Shapiro's executive order to expand employment opportunities for positions throughout state government is a step in the right direction."
Hochman would love to see other governors adopt or even build on this easy political win: "Why not require that government contractors, for example, eliminate unnecessary and burdensome credentialing practices? Or give tax breaks and other incentives to private businesses that do away with them?"
It would be preferable for the government to not play a role at all in determining what level of education a private employer demands of potential hires. There are market signals that can actually help resolve the issue of "diploma inflation," which the Harvard study notes: "Seeking college graduates makes many middle-skills jobs harder to fill, and once hired, college graduates demonstrate higher turnover rates and lower engagement levels."
There are ways for businesses to recognize a misalignment in credential demands that don't require governors or lawmakers to get involved at all. When we discuss dumping oppressive government credentialing mandates, let's not replace them with other types of demands.
The post Pennsylvania's New Governor Dumps Excessive College Diploma Demands for State Jobs appeared first on Reason.com.