A Louisiana Town Repeatedly Arrested a Man for His 'FUCK JOE BIDEN' Flags. Now, He's Suing.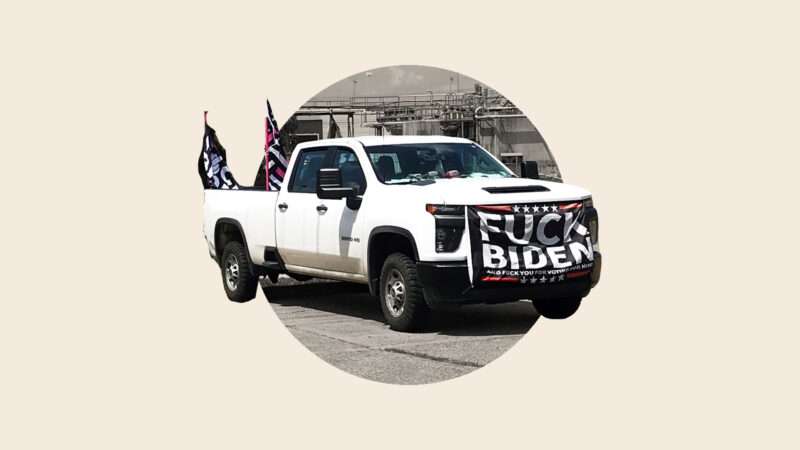 A man has filed suit against the town of Grand Isle, Louisiana,* claiming he was repeatedly ticketed, detained, and even criminally charged for flying two flags reading "FUCK JOE BIDEN" on his pickup truck.
According to the lawsuit, filed Tuesday by Ross Brunet, his flags were protected by the First Amendment. "In violation of long-established law, the Town has routinely detained, cited, and forced Mr. Brunet to go to trial to vindicate his constitutional rights, taking the extraordinary step of adopting a boldly unconstitutional local Ordinance to silence him," the 18-page complaint reads.
Brunet, a contractor working throughout southern Louisiana, says in the filing that he was repeatedly targeted by the town of Grand Isle, Louisiana, for the content of several signs Brunet kept displayed on his pickup truck. The flags read "FUCK JOE BIDEN" and, in a smaller font, "AND FUCK YOU FOR VOTING FOR HIM." The suit alleges that Brunet was arrested four times throughout 2021 by a local police officer for "display of patently obscene words/photos/depiction" under a Louisiana anti-obscenity law.
However, Brunet successfully defended himself against the charges in court, arguing that his flags are protected political speech, not obscenity. Louisiana law defines obscenity as content which, when applying contemporary community standards, "appeals to the prurient interest; and the hard core sexual conduct," and "is presented in a patently offensive way; and the conduct taken as a whole lacks serious literary, artistic, political, or scientific value." The lawsuit claims that, despite being found "not guilty" of the charges in November 2021, Brunet was "nonetheless told 'don't do that again' or words to that effect, by Town officials."
Despite his legal victory, the suit claims that Brunet was again cited for "obscenity" three more times by the same officer. While Brunet was awaiting his court date to again argue against the charges, the Grand Isle local government passed an ordinance in August 2022 ordering that "signs on vehicles shall not contain language deemed offensive and vulgar nor obscene in nature and cannot contain language that describes a sex act." In court, the City Attorney even allegedly showed Brunet the newly passed ordinance and said "words akin to, 'we've got you now.'"
On Tuesday, Brunet filed suit, alleging—among other claims—that the town violated his First Amendment rights, false arrest, and malicious prosecution. The suit also challenges the constitutionality of the local ordinance.
"Because of Defendants' actions, Mr. Brunet's speech has in fact been chilled. He is fearful of and refrains from engaging in his protected political speech in Grand Isle, out of fear of government punishment or further retaliatory action." the complaint reads.
The local ordinance passed in response to Brunet's actions is clearly unconstitutional "because it is a content-based discrimination against certain types of speech. So the ordinance prohibits the display of certain speech, vulgar speech, offensive speech which is not defined by the statute such that it effectively outlaws speech that is protected by the Constitution," Brunet's lawyer, Katie Schwartzmann, told Reason.
Even if local officials found Brunet's speech distasteful, they had no right to sanction him—and no right to create a blatantly unconstitutional local ordinance in response. Now, they might pay for it in court.
"Ideas that some people might find offensive are sometimes at the core of political debate and political conversation," Schwartzmann added. "And for that reason, we value and protect free exchange of ideas, free speech. Even when some listeners might find those ideas offensive."
*CORRECTION: A previous version of this article incorrectly stated that Ross Brunet is a resident of Grand Isle, Louisiana.
The post A Louisiana Town Repeatedly Arrested a Man for His 'FUCK JOE BIDEN' Flags. Now, He's Suing. appeared first on Reason.com.