Senate GOP "Breakfast Club" Formulating Debt Ceiling Debate Strategy
January 26, 2023 | Tags: ZEROHEDGE
Senate GOP "Breakfast Club" Formulating Debt Ceiling Debate Strategy
A group of seven Republican Senators have been holding Tuesday "breakfast club" meetings in order to formulate a strategy for the upcoming showdown over the debt ceiling.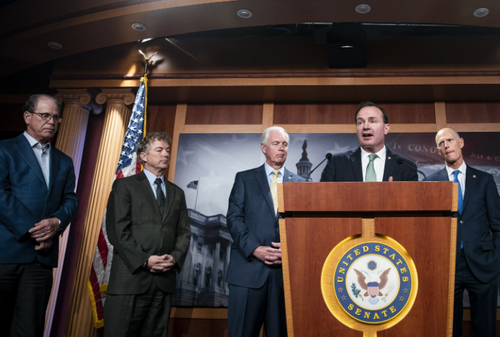 According to Sen. Mike Braun (R-IN), the group doesn't actually gather for a meal.
"No breakfast — we're fiscal conservatives," he told Bloomberg.
Almost all of the Breakfast Club's members, including Rick Scott of Florida and Mike Lee of Utah, late last year led an unsuccessful revolt against reelecting GOP leader Mitch McConnell. Like the House's far-right Freedom Caucus that almost blocked Kevin McCarthy from the speakership, they are a reminder that the party's populist members aren't afraid of a high-stakes rebellion.
"There is always a need for leadership," said breakfast club member Sen. Ted Cruz (R-TX), who added that "If we don't balance the budget we'll never get interest rates down, we'll never get inflation down."
"I think we've got to have a legitimate conversation about how do we balance the budget," said Sen. Scott. "I think we've got to have a legitimate conversation about how do we balance the budget,"
The formation of the group marks the first time Senate GOP conservatives have united into a faction since the long-disbanded Tea Party Caucus from over a decade ago - when Cruz and House conservatives huddled in the basement of a now-closed DC restaurant just steps from the Cannon House Office Building while the government was in the middle of a 16-day shutdown which was orchestrated in part by Cruz.
On Wednesday, Sen. Ron Johnson of Wisconsin said they're hoping to work with House conservatives to lead the effort. "And we're going to hopefully influence what they're asking for."
The emergence of the group, which also includes Rand Paul of Kentucky and Lindsey Graham of South Carolina, comes as President Joe Biden and congressional Democrats are doubling down on their call for a "clean" debt ceiling. Biden has said it would be a financial "calamity" if the US defaults on its obligations.

McConnell has said spending reductions often are negotiated with debt limit increases, but aggressive moves by some conservative House Republicans to force deep reductions have prompted concerns of a repeat of 2011, when a simmering feud over roiled financial markets and damaged an economic recovery. -Bloomberg
In short, GOP conservatives aren't going to go quietly into the night.
Tyler Durden
Thu, 01/26/2023 - 14:20