Stock Warnings Get Louder With Estimates Falling
January 26, 2023 | Tags: ZEROHEDGE
Stock Warnings Get Louder With Estimates Falling
By Isabelle Lee, Bloomberg Markets Live reporter and strategist
Investors fretting about the prospects for global earnings growth may want to brace for a long slog this year, and stiff headwinds to equities as a result.
Analysts' estimates for 2023 profits continue to fall, with major regions showing negative revision momentum, according to research from Bloomberg Intelligence's Gina Martin Adams and Gillian Wolff. In the US, for example, sell-side analysts have lowered projections by more than half since September, while the outlook for emerging markets has slumped even more.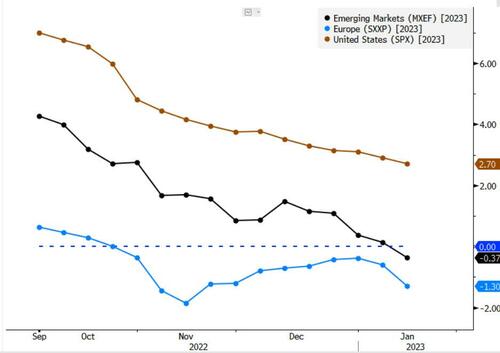 The upshot is it may be too early for investors to bet on a full-fledge rebound from the pummeling equities took last year, even with China moving past its zero-Covid policies and the Federal Reserve potentially set to end its interest-rate hikes. The concern is that companies still have more pain to absorb as the past year's jump in borrowing costs ripples through the global economy.
"Global earnings estimates are being cut at an increasingly rapid pace through much of the developed world, threatening to put more pressure on stocks," the BI strategists wrote.
The S&P 500 Index is headed for the best January since 2019, and the US economy is still expanding, albeit at a slower pace. But even onetime optimists have been questioning whether the world's biggest economy can achieve a soft landing. JPMorgan Chase & Co.'s Marko Kolanovic, for example, said earlier this week that slowing growth is setting the stage for a selloff in stocks. He expects a recession in the US and Europe.
Of the 44 sectors that BI tracks in global markets — 11 each in China, Europe, the US and emerging markets — three quarters have reduced expectations for earnings-per-share growth in 2023, the strategists wrote.
"There still seems to be this broad ubiquitous downgrade that's occurring across the board," Wolff said in an interview. "In terms of calling the bottom for these downgrades, it's difficult to say. But near-term, it's not showing signs reversing."
Global markets appear to be at different phases of their respective growth cycles as they rebound from the pandemic — a dynamic that earnings estimates highlight.
For instance, anticipated earnings growth of close to 15% this year in China and India won't show up in the average for emerging markets because of declines foreseen in Taiwan, South Korea and Latin America, BI said. Europe may see a slight earnings contraction, while the US will likely see earnings growth of roughly 3% — compared with the pre-pandemic pace of 7%, according to BI.
However, all markets face a similar hurdle when it comes to central banks bent on tamping down inflation. Fed officials, for example, have signaled they intend to keep rates elevated even after they eventually stop hiking.
"The lag effects of the Fed's tightening so far will slow the economy in the second half of 2023 and cause analysts to slash earnings estimates, which ultimately is a headwind for stocks," Richard Saperstein, chief investment officer at Treasury Partners, said in a note.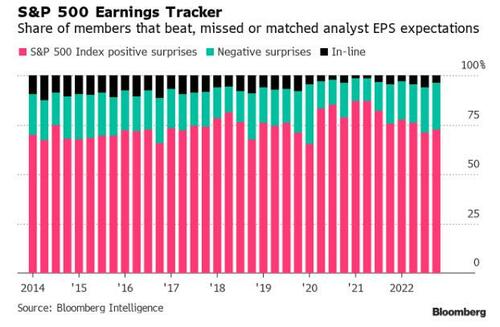 Tyler Durden
Thu, 01/26/2023 - 14:40