Trump's Facebook and Instagram Accounts To Be Reinstated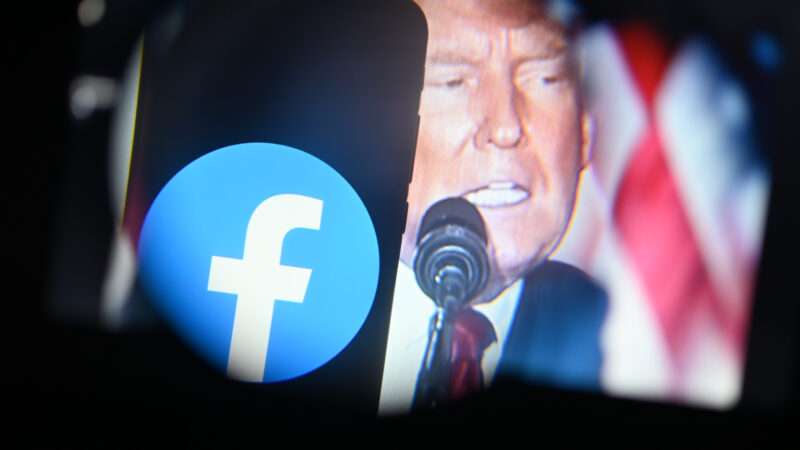 Meta announced yesterday that it will restore former President Donald Trump's Facebook and Instagram accounts, following his January 2021 suspension from both platforms. The reinstatement will happen "in coming weeks," Meta President of Global Affairs Nick Clegg said yesterday.
Trump was suspended from Facebook, Instagram, and Twitter in the wake of the January 6, 2021, riot at the U.S. Capitol. New Twitter CEO Elon Musk reinstated Trump's Twitter account last November, though Trump has yet to return to the platform.
The decision to restore Trump's accounts has outraged many who hoped the suspensions would be permanent. And perhaps if Trump were simply fading into MAGA grifter land, doing so would make sense for Meta. But he is not. Rather, Trump is running for president again in 2024.
While Trump has no shortage of ways to get his message out—including on the Trump-branded Truth Social, where he now posts—exclusion from Facebook, Instagram, and Twitter would still deprive the 2024 candidate of a chance to spread his election messaging more widely.
(Whether that helps or hurts him shouldn't factor into reinstatement decisions. But for what it's worth, people who assume that it can only help may be mistaken. In the past couple of years, Trump's erratic antics seem to have lost some luster among some moderate and conservative segments, while fringier elements no longer think he goes far enough. So it's possible that giving Trump more of a voice on mainstream platforms could actually work against him.)
"We've always believed that Americans should be able to hear from the people who want to lead the country," Clegg told Axios. "We don't want to stand in the way of that."
That's the patriotic spin, which serves as a nice corollary to Musk's free speech rationale. There may also be more self-motivated reasons for Meta and Twitter to reinstate Trump, of course. To keep Trump off of the biggest and most mainstream social media platforms would spur more accusations of liberal bias at tech companies. And, if things don't go Trump's way, it serves as an eternal excuse to claim that the whole system was rigged against him.
So, as much as I hate the idea of Trump's whims and words dictating basically every news cycle again, I think that Meta is making the right call.
Of course, it's also inviting a world of trouble.
"We just do not want — if he is to return to our services — for him to do what he did on January 6, which is to use our services to delegitimize the 2024 election, much as he sought to discredit the 2020 election," Clegg said, detailing to Axios a range of ways that Meta might limit the reach of Trump posts that cross a line:
Trump will be subject to new policies around restricting accounts by public figures during civil unrest. Under those policies, Meta can decide to restrict the account of a public figure that violates its community standards for a time ranging from one month to two years….

For actions or speech that don't explicitly violate Meta's community standards, Clegg said the company will retain discretion to take action, and may enforce different types of guardrails, including limiting the distribution of posts without removing them or temporarily restricting access to its advertising tools.

"Oblique references to QAnon content, for instance … is the kind of material that — even if it's done obliquely, and doesn't violate our community standards — we would seek to restrict the distribution of the content and/or restrict his ability to advertise," he said.
These steps would allow content to remain visible on Trump's account but not get distributed in users' feeds, even for those that follow the former president.
For example, Meta may opt to remove the "re-share" button from such posts, and may stop them from being recommended or run as ads.
If—or when, let's be honest—Trump violates Meta's policies, the company will face an insane amount of scrutiny in its handling of these violations.
Failure to limit misinformation from Trump will surely get Meta (and Twitter) in trouble with Democrats, while any actions to restrict his message will curry the wrath of Republicans. When it comes to Trump, there's really no way for social media platforms to win.
---
FREE MINDS
Massie vs. McCarthy? Kentucky Republican Rep. Thomas Massie talks about what it means that he'll be on the powerful House Rules Committee along with two other members of the House Freedom Caucus, Reps. Chip Roy (R–Texas) and Ralph Norman (R–S.C.):
Excellent @byrdinator look at what the secondment of the GOP rebels to the Powerful Rules Committee means in practice.https://t.co/bZVMtLHCOc

Key bit: pic.twitter.com/txi69kBBgM

— Liam Donovan (@LPDonovan) January 25, 2023
"The Rules panel directs floor debate on legislation and is the most heavily stacked in favor of the majority party: The breakdown last Congress was nine Democrats to four Republicans," notes The Dispatch. "This Congress it's reversed: nine Republicans to four Democrats. That math translates to a majority to reject GOP leaders' plans if the two Freedom Caucus members and Massie join Democrats to vote against anything."
---
FREE MARKETS
Where there's a dumb, tech-panicky idea, Sen. Josh Hawley (R–Mo.) is never far behind:
Sen. Josh @HawleyMO introduces bill to ban TikTok in the U.S.: "Banning it on government devices was a step in the right direction, but now is the time to ban it nationwide to protect the American people." pic.twitter.com/iZM14uxTSH

— Dan Linden (@DanLinden) January 25, 2023
---
QUICK HITS
• The Biden administration has approved sending U.S. tanks to Ukraine. The plan is to send 31 M1 Abrams tanks to Ukraine, in conjunction with a shipment from Germany. Biden says this isn't meant to escalate the war…but that doesn't mean Russia won't see it that way.
• A man in Louisiana was repeatedly arrested over flags on his truck that say "Fuck Joe Biden." Now, he's suing.
• The Competitive Enterprise Institute is launching a new FTC-watchdog campaign.
•  Florida's rejection of an A.P. African American Studies course is a rejection of school choice, writes Reason's Scott Shackford.
The post Trump's Facebook and Instagram Accounts To Be Reinstated appeared first on Reason.com.