5 Memphis Cops Charged With Murder of Tyre Nichols, Who Died After Traffic Stop Beating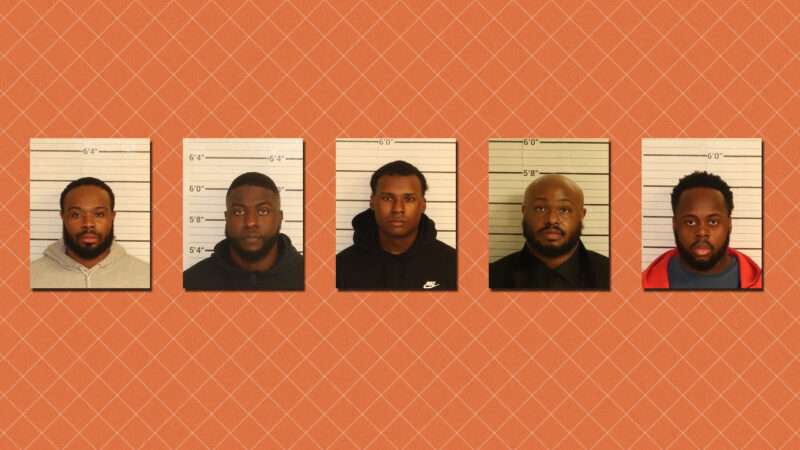 Five Memphis cops involved in the killing of Tyre Nichols have been indicted on charges that include kidnapping and murder. Nichols died after being pulled over for a traffic stop on January 7.
"A confrontation occurred," Nichols fled on foot, and then "another confrontation occurred," police said. He was taken to the hospital, where he died three days later.
In typical law enforcement speak, the Memphis Police Department characterized the 29-year-old's death as resulting from injuries sustained during a "use-of-force incident with officers."
Authorities will release body camera footage of that incident this evening, according to Shelby County District Attorney Steve Mulroy. And you can tell it will be bad by the fact that officials are already pleading with people not to riot.
"Officials in Memphis have braced for potential civil unrest and have called for peaceful protests ahead of video of the fatal police encounter that's expected to be publicly released Friday," reports CNN. "The local school district also canceled all after-school activities Friday in the 'interest of public safety.'"
President Joe Biden also issued a statement yesterday. "I join Tyre's family in calling for peaceful protest," said Biden. "Outrage is understandable, but violence is never acceptable."
(The satirical newspaper The Onion sums it up as "Police Urge Calm In Light Of Unspeakable Evil They Committed.")
The five officers charged in conjunction with Nichols' death—all now fired from the Memphis Police Department—are Tadarrius Bean, Demetrius Haley, Justin Smith, Emmitt Martin III, and Desmond Mills Jr. They have each been charged with one count of second-degree murder, one count of aggravated assault–acting in concert, two counts of aggravated kidnapping, two counts of official misconduct, and one count of official oppression.
All five officers are black, as was Nichols—highlighting how the culture of U.S. policing, not just racism, contributes to America's abysmal police brutality problem.
since this will come up a lot in media coverage of Tyre Nichols in Memphis: while I get that it seems narratively significant that the officers are black. Statistically, it is unsurprising. In tracking police violence, we never found that race of the officer made much difference

— Wesley (@WesleyLowery) January 26, 2023
The body camera footage "cuts in as the first encounter is in progress," Mulroy told CNN on Thursday. "What struck me (about the video) is how many different incidents of unwarranted force occurred sporadically by different individuals over a long period of time."
Tennessee Bureau of Investigation Director David Rausch said he was "sickened" by what he saw in the video, calling it "absolutely appalling."
Antonio Romanucci, an attorney for Nichols' family, said Nichols "was defenseless the entire time. He was a human piñata for those police officers.…Not only was it violent, it was savage."
---
FREE MINDS
Judge issues preliminary injunction against California's COVID-19 censorship law. A federal judge has temporarily halted the implementation of a California law (Assembly Bill 2098) that empowered the Medical Board of California to sanction doctors who provide COVID-19 information that the state deems counter to "contemporary scientific consensus." The law is being challenged by the New Civil Liberties Alliance (NCLA). Judge William B. Shubb of the U.S. District Court for the Eastern District of California ruled yesterday that the NCLA has standing to bring the case, and he halted implementation of the law as the case plays out.
The phrase contemporary scientific consensus "lacks an established meaning within the medical community," noted Shubb in his decision. Accordingly, doctors are "unable to determine if their intended conduct contradicts the scientific consensus, and accordingly 'what is prohibited by the law.'"
"COVID-19 is such a new and evolving area of scientific study, it may be hard to determine which scientific conclusions are 'false' at a given point in time," Shubb added.
More on the decision here from Reason's Jacob Sullum.
---
FREE MARKETS
Freer countries, richer people. The Cato Institute's eighth annual Human Freedom Index (HFI) is out. The index ranks countries and jurisdictions around the world by looking at 83 indicators of personal and economic freedom:
On a scale of 0 to 10, where 10 represents more freedom, the average human freedom rating for the 165 jurisdictions fell from 7.03 in 2019 to 6.81 in 2020. Most areas of freedom fell, including significant declines in the rule of law and freedom of movement, expression, association and assembly, and freedom to trade. Based on that coverage, 94.3 percent of the world's population lives in jurisdictions that saw a fall in human freedom from 2019 to 2020, with 148 jurisdictions decreasing their ratings and 16 improving.
Countries that scored the highest (in order) were Switzerland, New Zealand, Estonia, Denmark, Ireland, Sweden, Iceland, Finland, the Netherlands, and Luxembourg.
Selected jurisdictions rank as follows: Canada (13), Taiwan (14), Japan (16), Germany (18), United Kingdom (20), United States (23), South Korea (30), Chile (32), France (42), Argentina (74), South Africa (77), Brazil (80), Ukraine (89), Mexico (98), India (112), Russia (119), Nigeria (124), Turkey (130), China (152), Saudi Arabia (159), Iran (162), Venezuela (163), and Syria (165).
Cato notes that freer countries tend to be richer countries.
Jurisdictions in the freest quartile enjoy more than twice the average per capita income ($48,644) of those in the other quartiles ($23,404 for the second freest). On average, the freest jurisdictions in the world have a much higher per capita income than those that are less free. The HFI also finds a strong relationship between human freedom and democracy.
---
QUICK HITS
Well this is pretty new.

DeSantis leads Trump by double digits in NH, 42-30 -- this time in a crowded field, not a 1-on-1 matchup.https://t.co/HWCeAZCUyQ pic.twitter.com/MU2KpUd2za

— Aaron Blake (@AaronBlake) January 26, 2023
• Biden's biggest immigration policy mistakes: "failing to frame the situation at the border as a refugee crisis and continuing some of former President Donald Trump's enforcement policies at the border."
• Special counsel John H. Durham's investigation into whether the Trump-Russia investigation was corrupt is closing, "without uncovering anything like the deep state plot alleged by Mr. Trump and suspected by [former Attorney General Bill] Barr," notes The New York Times. But at one point, the probe veered into investigating Trump himself for alleged financial crimes—a development reported in media at the time as if Durham had found evidence of criminal wrongdoing by people involved in the Russia probe.
• Ben Dreyfuss has some good observations on the Stanford student reading Mein Kampf.
• Spain is considering legislation to criminalize people who pay for sex and anyone who rents a room to "facilitate the prostitution of another person, even with their consent." Human Rights Watch urges Spanish lawmakers to reject this proposal.
• Economist Emily Oster drills down on research related to alcohol and health.
• TikTok is not a national security threat.
• A new study published in the Journal of Health Economics shows that states with legal marijuana have significantly lower numbers of pharmacy-based codeine prescriptions.
• "So much of the imagery that people see about abortion comes from abortion opponents who have spent decades spreading misleading fetal imagery to further their cause," write doctors Erika Bliss, Joan Fleischman, and Michele Gomez, co-founders of the My Abortion Network. They aim to showcase what pregnancy tissue in early pregnancy actually looks like.
• Flexible homeschooling is entering the mainstream, J.D. Tuccille writes.
The post 5 Memphis Cops Charged With Murder of Tyre Nichols, Who Died After Traffic Stop Beating appeared first on Reason.com.