Blackstone President Says BREIT Still Has "Backlog" Of Redemption Requests
January 27, 2023 | Tags: ZEROHEDGE
Blackstone President Says BREIT Still Has "Backlog" Of Redemption Requests
The $68 billion Blackstone Real Estate Income Trust (BREIT) has failed to stem soaring redemption requests from high-net-worth investors, Blackstone President Jonathan Gray told Financial Times in an interview.
Gray said it was "a little early" to say redemption requests of the nontraded real-estate investment trust were slowing. 
"We have a backlog from November and December," he said, adding, "I will say the tone of the conversations with our advisers is much improved."
Perhaps the conversations with advisers improved after Blackstone sent an email to them with talking points to calm their anxious investors. One money we spoke with said the move by Blackstone to send a Q&A sheet to calm clients was 'unprecedented.'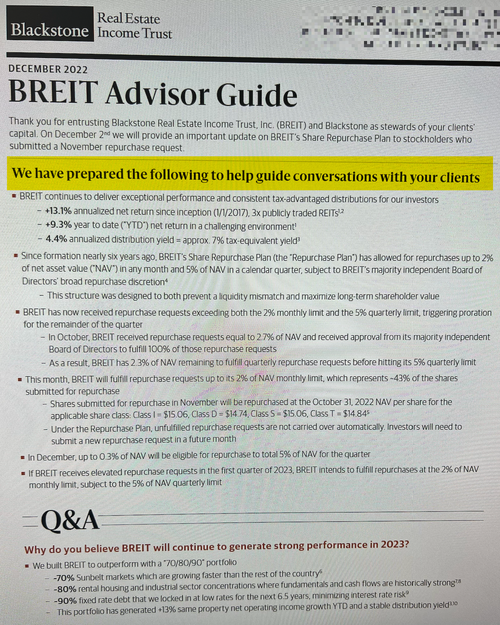 Or maybe the 'buffet style' bailout of the nontraded real-estate investment trust by the University of California's endowment has calmed some investors, but redemption requests have yet to subside. 
Another money manager with clients in BREIT told us after the UC Investments' move to purchase $4 billion of the real-estate investment trust that "there is no doubt Blackstone needed a 'name brand' to placate nervous investors." 
Since early December, we've closely followed the BREIT story and other turmoil to hit the New York investment firm. Recall:
BREIT gives wealthy clients exposure to a portfolio of commercial real estate properties such as apartment buildings, office towers, and warehouses, but how the investment firm structures product on nontradeable markets opens up liquidity risks in periods of economic turmoil. 
The ultimate fear is that money managers with clients in BREIT all ask for their cash back at once. Though that hasn't happened, Blackstone has had enough redemption requests to implement a redemption cap to prevent a further run. This creates a vicious feedback doom loop of anxiety for investors. 
Tyler Durden
Fri, 01/27/2023 - 06:55