The Squeeze Is On: Tesla Shares Rocket Higher, Now Up 20% In Two Days, MS Re-its "Top Pick"
January 27, 2023 | Tags: ZEROHEDGE
The Squeeze Is On: Tesla Shares Rocket Higher, Now Up 20% In Two Days, MS Re-its "Top Pick"
Tesla shares have continued to move sharply higher since the company's earnings report this week, with shares now over 70% higher than recent lows that were made just weeks ago.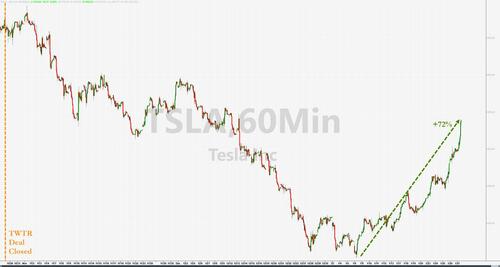 Shares caught a tailwind when earnings this week were far less catastrophic than many on the street anticipated. Shares had been crushed, falling more than 70% from peak to trough over the last year and setting up an environment where shares could whipsaw higher, carrying out shorts, on any better than expected news. 
Recall, for the quarter, Tesla reported:
Revenue was a record $24.318BN, up 37% Y/Y, beating the consensus estimate of $24.1BN

Adj EPS $1.19, up 40% Y/Y, and also beating the consensus estimate of $1.12

Free cash flow $1.42BN, down 49% Y/Y, and missing estimates of $3.13BN

Capital expenditure $1.86 billion, up 3%, missing estimates of $1.9 billion
Bottom line: Tesla reported better-than expected profits amid growing skepticism about the auto industry, and signaled strength as it faces growing questions about demand for its all-electric vehicle lineup. Today's squeeze is also being helped along by what appears to be retail piling back into the stock via massive, near dated call buying:
Back to our regularly scheduled programming. pic.twitter.com/WjtB63MMJX

— Keubiko (@Keubiko) January 27, 2023
The last few days have seen put and call volumes for TSLA stock exploding once again...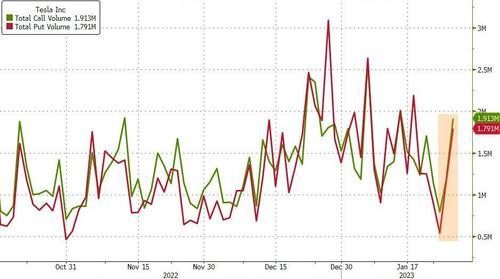 And as the following table shows, that volume is dominated by 0DTE chaos...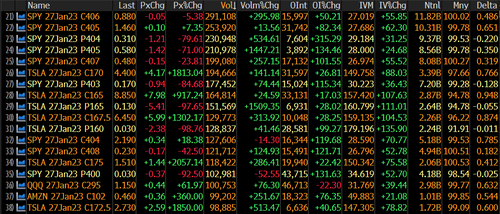 And the dollar volume of TSLA stock traded is exploding too...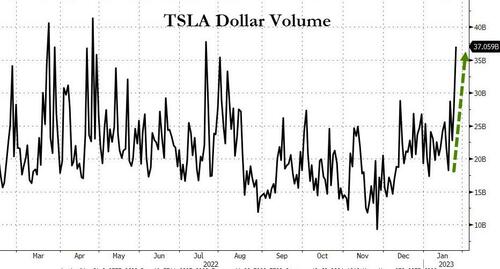 In a note published yesterday by Adam Jonas at Morgan Stanley, he noted that "Management said Tesla has been raising prices again (slightly) and that the cuts on the website do not drop 1:1 into the FY23 ASPs due to order backlog, timing,and other factors."
The note raised the question of whether or not Tesla's lows were in...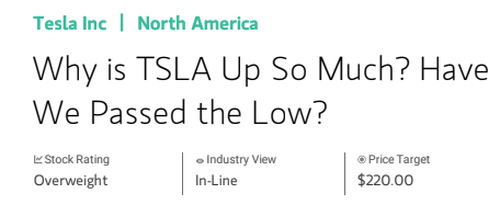 One of the main worries heading into earnings was margin compression as a result of price cuts.
As we noted this week, while the top and bottom lines both beat, it came at a cost to margins: in Q4, Tesla's Automotive Gross Margin was +25.9%, down a whopping 466bps from 30.6%,  and missing the estimate of +28.4%. The reason for this sharp drop in margins most likely has to do with the company's creeping price cuts and still rising commodity costs. The drop in the automotive gross margin also hit the total gross margin, which dropped to 23.8% vs. 27.4% y/y, and also missed the estimate of 25.4%.
Jonas said these worries were alleviated: "Management expressed confidence in gross margins at 20%,alleviating the bear case. They also discussed potential cutting offsets and rolling off of inefficiencies burdeningFY22, suggesting OP margin is more resilient (we expect both gross and OP margins to fall)."
During the company's earnings report, its reiteration of its 50% CAGR guidance was notable, Jonas says: "The company reiterated the long term 50% CAGR target (which is over 2x our forecast) and expects FY23 deliveries of around 1.8mn units (consensus) which embeds lingering supply chain issues. Management believes 2mm is possible if supply improves."
The firm reiterated its choice of Tesla as a "top pick" and placed a $220 price target on the name:
"I'm not so sure about that. While we reiterate Tesla as our Top Pick with a $220 target, we see FY23as a year where auto price inflation turns to deflation compounded by continued macro and geopolitical uncertainty. With Tesla, there's also the ever present background risk of 'company specific' idiosyncratic and sentiment-related factors that can also swing this historically volatile name in both directions. Within a wide range of outcomes, we could see Tesla test new lows in the first half (our updated bear case is $70) before exceeding our $220 price"
Recall,  2022 - and Q4 in general - was volatile, to say the least, for Tesla. Deliveries widely disappointed the market to start the year. Tesla announced earlier this month that it had delivered a record 405,278 vehicles for the Q4 2022 quarter.
The number marked a record for the company, but came in below most Wall Street estimates, even some that were revised lower. Consensus estimates for deliveries stood at 420,760 into the report, according to Bloomberg. "In 2022, vehicle deliveries grew 40% YoY to 1.31 million," the company's press release said.
This fell short of the 50% growth figure the company had once projected for the year - but the market appears to believe Tesla's new, reiterated guidance as of two days ago...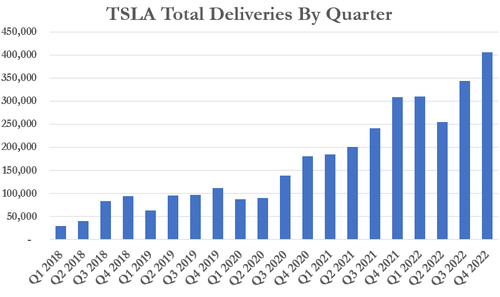 One final thing of note. Remember the daily updates from the mainstream media as to just how much Elon Musk's net worth had plunged after he closed the deal to buy Twitter...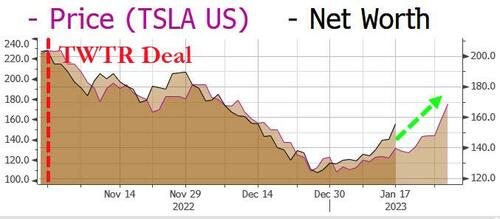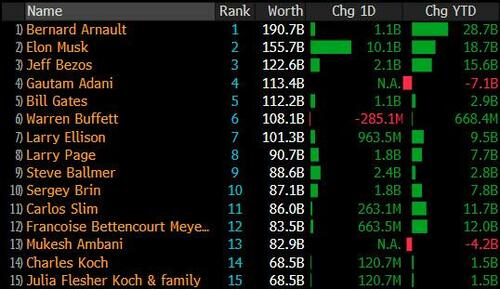 ...funny how we haven't heard the same excitement as his net worth has exploded back higher in the last few weeks, eh?
Tyler Durden
Fri, 01/27/2023 - 12:22