Vail Resorts Record An Abundance Of Snow Despite Mild US Winter
January 30, 2023 | Tags: ZEROHEDGE
Vail Resorts Record An Abundance Of Snow Despite Mild US Winter
So far this year, winter has been very mild. Millions of Americans are scratching their heads, asking 'where is the snow'? 
Last week, New York City was slated for snow but received rain instead. This led the metro area to break a half-century-old record of the longest period without accumulating snow. 
But not all areas of the Lower 48 are missing out on winter—more than a dozen mountainous ski resort areas tracked by Bank of America recorded above-average snowfall. 
BofA analyst Shaun Kelley wrote in a note to clients Monday that 16 Vail Resorts they track have snowfall that is +30% year-over-year for this time of year and 51% over a two-year average. 
"Snowfall is healthy across the board, led by Tahoe, Park City, and Colorado. Tahoe and Park City have already surpassed their full-season long-term historical snowfall average, and there are still 2+ months left in the season," Kelley wrote. 
He pointed out that even in the Northeast, where resorts have lacked snowfall, Vermont resorts received much-needed 2 feet of powder last week, while Hunter Mountain received a foot. Whistler was the only resort that has so far recorded below-trend snowfall.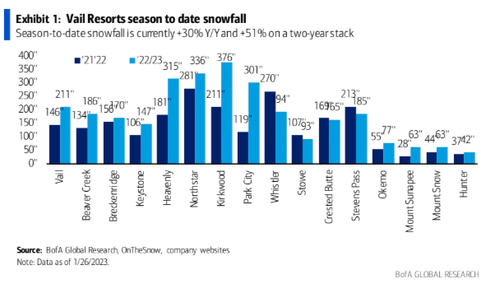 This season's snowfall for Vail resorts is well above last season's and the long-term average.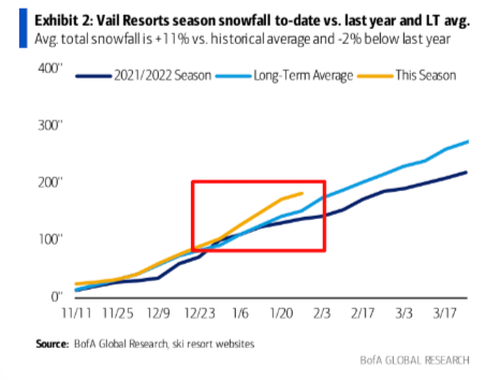 The good news for ski resorts is winter is roaring back in early February.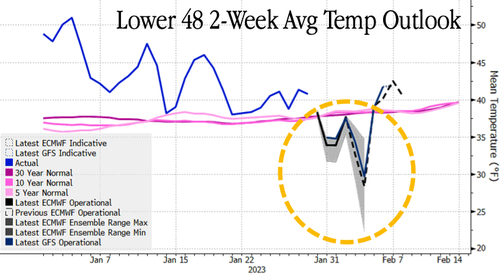 "Dangerously cold temperatures and wind chills are forecasted across the Northern Plains and Upper Midwest through early this week," the Climate Prediction Center said. Colder weather is great news for Vail Resorts. 
Tyler Durden
Mon, 01/30/2023 - 20:00