DeSantis Revokes Licenses From Businesses That Fail To Use Flawed E-Verify System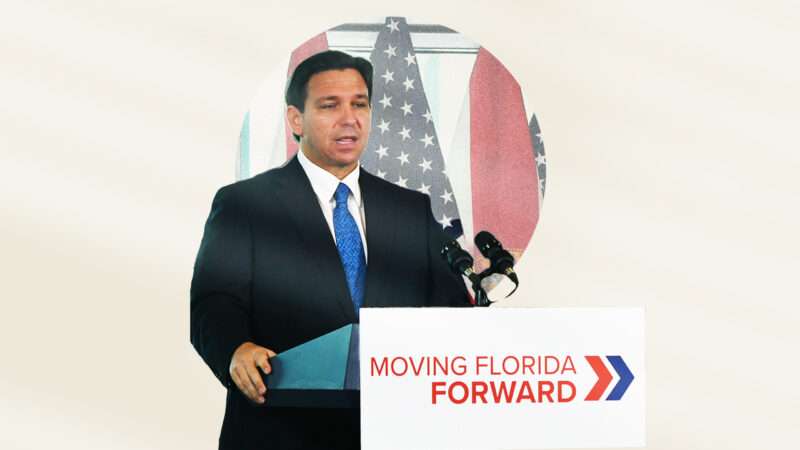 Under orders from Republican Gov. Ron DeSantis, the Florida Department of Economic Opportunity is cracking down on some Floridians' economic opportunities.
Leigh McGowan, the department's press secretary, confirmed to Reason on Monday that the state was revoking licenses from two Florida-based businesses that had failed to comply with a law mandating the use of the federal E-Verify system to check the immigration status of all workers hired after January 1, 2021.
The Department of Economic Opportunity had sent warning letters in December to a series of companies—including two that are not headquartered in Florida but have employees there—threatening to revoke their licenses if they failed to comply with the mandate. The companies were given 30 days to file an affidavit confirming that they did not employ undocumented immigrants and promising to comply with the E-Verify mandate when hiring future workers.
That 30-day deadline passed two weeks ago, and McGowan says the state has now taken action.
The department "has notified state and municipal agencies that may license these companies of their noncompliance," McGowan writes in an email. "In accordance with the law, these agencies must now suspend all applicable licenses held by the employer."
MDL Property Maintenance is a property management company based in Boynton Beach, Florida, while IntelyCare runs an online portal that connects registered nurses with medical facilities in the Tampa area. Both will have licenses suspended by the Florida Department of State, Department of Revenue, and Department of Business and Professional Regulation, as well as any licenses issued by counties and municipalities where they do business. IntelyCare will also have a license suspended by the state's Agency for Health Care Administration.
Revoking those licenses will effectively shut down the two businesses, a move that directly impacts their employees, contractors, and clients. Property owners and nurses will have to scramble to find substitutes for the services provided by MDL and IntelyCare. In trying to root out undocumented immigrants who are working for employers that have agreed to pay them for their labor, DeSantis has likely upended the lives of dozens of Floridians.
The crackdown is also in tension with how DeSantis promotes Florida as a land of economic opportunity. "We are No. 1 in these United States in net in-migration. Florida is the No. 1 fastest-growing state. We are No. 1 in new business formation," the governor claimed during his second inaugural address earlier this month, in which he called his state a "promised land" for those fleeing failed policies in other states. Why shouldn't the same principle apply to those fleeing other countries for economic opportunities?
The federal E-Verify system is supposed to be an efficient and low-cost way for businesses to check the employment status of workers. In reality, it's a flawed system that imposes huge costs on businesses and workers. In 2016, the Department of Homeland Security estimated that compliance with the program cost employers an estimated 13.48 million man-hours annually. It's the sort of bureaucratic intrusion into the private decisions of employers and workers that conservatives would in many other cases oppose.
And, as a practical matter, it doesn't even work properly due to some built-in weaknesses. The biggest of those, as the Cato Institute's Alex Nowrasteh pointed out in a 2019 op-ed, is that the system checks documents, not workers. And documents can be forged, stolen, or otherwise faked.
When it does work, the E-Verify system harms rather than helps the economy. A 2020 study from the National Bureau of Economic Research found that the use of E-Verify produces "significant declines in Hispanic worker employment," but "no evidence that native-born workers benefit."
"Florida should not be threatening employers for failing to comply with another onerous government regulation like E-Verify," Nowrasteh tells Reason in response to DeSantis' announcement.
"These businesses are not accused of hiring illegal immigrants," Nowrasteh says. "They are merely accused of not running some of their new hires through E-Verify—a government system with a poor track record or excluding illegal immigrants from employment."
The post DeSantis Revokes Licenses From Businesses That Fail To Use Flawed E-Verify System appeared first on Reason.com.