An Iowa Town Charged a Man With Disorderly Conduct Because He Called a Cop a 'Domestic Abuser'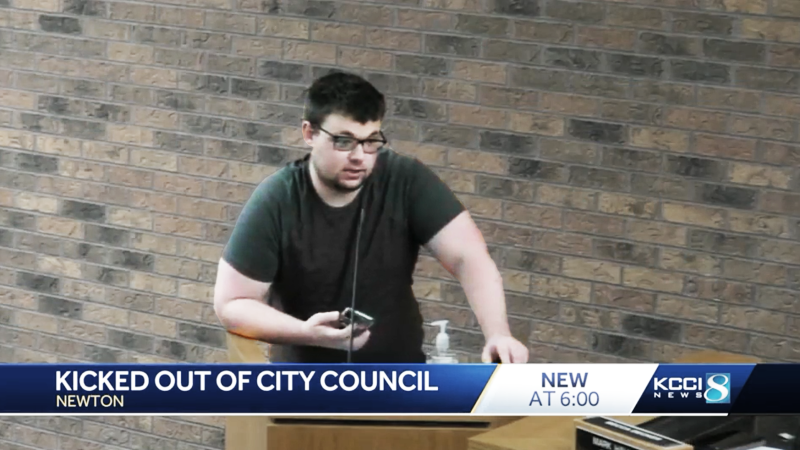 Noah Petersen was arrested last October for strongly criticizing a police officer during a city council meeting in Newton, Iowa. Now he has been found not guilty—and the ordinance used to justify his arrest has been overturned on First Amendment grounds.
"We believe the court got this exactly right," Petersen's attorney told the Des Moines Register. "We will be moving forward with a civil rights lawsuit soon."
Petersen, 22, spoke at an October 3 city council meeting about a video showing local police arresting a college football player on suspicion of intoxicated driving. The video had sparked community outrage, and the driver has since filed a false arrest lawsuit against the city.
During the meeting, Petersen said the Newton Police Department was "pro–domestic abuse because they are currently employing a domestic abuser." Petersen was then ejected and arrested for disorderly conduct, following a council rule baring "derogatory statements or comments about any individual."
Last Wednesday, Petersen was found not guilty of his disorderly conduct charge. Adding to his victory, the judge overturned the rule barring "derogatory" statements about individuals during city council meetings. "As applied in this particular instance, the Newton City Council rule is violative of the First Amendment," the verdict states.
Petersen "did not act in any objectively unreasonable manner," the judge added. "He read a prepared statement relating to the basic city service of policing. While some may not agree with the content of his comments, the Court finds the statements made were not 'derogatory,' nor about an 'individual.' In the event the statements could be found 'derogatory' or a comment about an 'individual'…the Court finds these terms vague and overbroad."
"What's the First Amendment for if not criticizing the government?" Petersen told the local TV station KCCI. "I think government can handle three minutes of criticism."
Petersen was also ejected and arrested for disorderly conduct at an October 24 city council meeting, after he called city officials "fascist." This case is scheduled to go to trial in April—but following last week's victory, Petersen should have little difficulty fending off the charges.
The post An Iowa Town Charged a Man With Disorderly Conduct Because He Called a Cop a 'Domestic Abuser' appeared first on Reason.com.