Ron DeSantis Wants $12 Million To Transport Migrants 'From Any Point' in the U.S.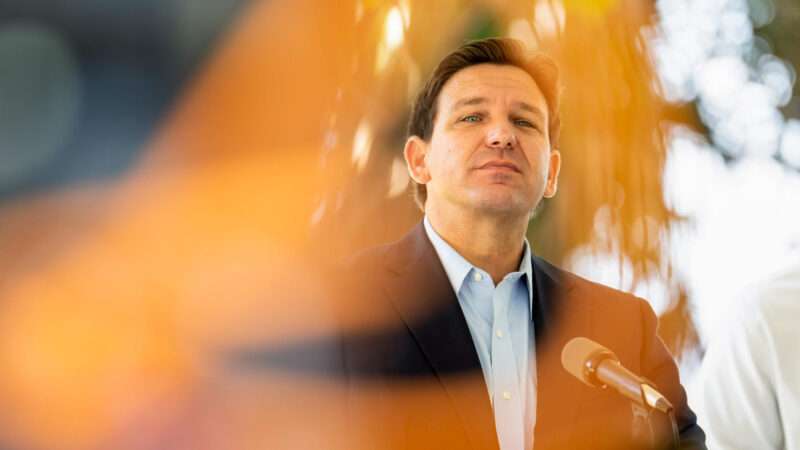 Florida Gov. Ron DeSantis made waves in September for a costly (and legally questionable) anti-immigrant stunt that saw nearly 50 migrants flown from San Antonio, Texas, to Martha's Vineyard, Massachusetts. DeSantis and other Florida officials have defended the flights on two main grounds: first, as an opportunity to expose liberal hypocrisy, and second, as a step in "protecting the people of the state of Florida."
The liberal hypocrisy didn't quite materialize; Martha's Vineyard residents quickly volunteered as translators, coordinated shelter, and prepared food for the migrants before they continued on to other destinations. The claim about protecting Floridians also rested on shaky ground. The flights targeted migrants who weren't even in Florida to begin with. (DeSantis claimed that "most of them [were] intending to come to Florida.")
Those problems haven't discouraged DeSantis. In his 2023–24 budget, announced on Wednesday, the governor requested $12 million to continue his "initiative to protect Floridians against the harms resulting from illegal immigration by facilitating the transport of unauthorized aliens." The $12 million would be used "to cover all costs associated with facilitating the transport of inspected unauthorized aliens, including, but not limited to the costs of litigation."
The request mirrors a provision in the 2022–23 budget that funded "a program to facilitate the transport of unauthorized aliens from this state consistent with federal law" (emphasis added). This time, DeSantis wants to transport migrants "from any point of origin in the U.S. to any jurisdiction." Spending taxpayer money to protect Floridians, in other words, need not involve anything actually taking place in Florida.
Of course, the Martha's Vineyard flights didn't originate in Florida, either (though they were routed through Crestview, Florida, ostensibly to refuel). Given the contradiction with the "from this state" budget language—along with other procedural issues—state Sen. Jason Pizzo (D–Miami) filed a lawsuit to block DeSantis from spending more money on migrant transportation. Last month, a Florida judge rejected DeSantis' request to toss the suit. His administration is also fighting a lawsuit filed by the migrants.
Axios reports that "Florida may end up paying up to $1 million to defend itself" in the migrant suit. This effectively leaves taxpayers with two bills: one to fund the initial stunt, and one to clean up the damage. That's also been the case in Arizona, where former Gov. Doug Ducey spent $95 million in state funds to put up a shipping container wall along the U.S.-Mexico border, which was built on tribal land without permission (and proved unsuccessful at deterring migrants). It will cost $76 million to remove. Taxpayers are losing in Texas, too: As of November, Gov. Greg Abbott had spent more than $20 million in state funds to bus migrants to D.C., New York City, and Chicago, at a cost of about $1,600 per head.
In DeSantis' case, the request for migrant transportation funding comes as part of a budget he claims will "keep more money in the pockets of Floridians." (Never mind the fact that it rings in at a record $115 billion.) A fiscally responsible governor would recognize that immigrants contribute significantly to public finances through taxes, use welfare at lower rates than similarly situated native-born Americans, and both fill and create critical jobs. DeSantis has proven more interested in a showy big-government stunt that punishes taxpayers and migrants alike.
The post Ron DeSantis Wants $12 Million To Transport Migrants 'From Any Point' in the U.S. appeared first on Reason.com.