This Texas Bill Could Bar Certain Immigrants From Buying Property in the State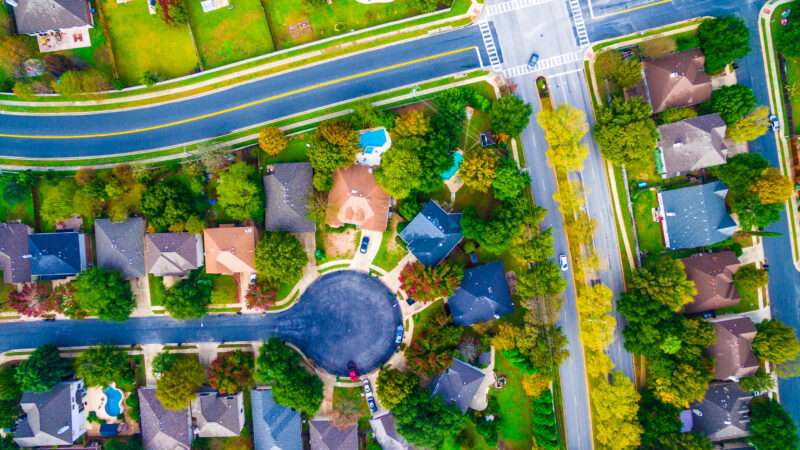 As it currently stands, Texas law guarantees that "an alien has the same real and personal property rights as a United States citizen." That might not sound controversial—but a new bill is seeking to add some major exceptions.
Senate Bill (S.B.) 147, introduced in November by state Sen. Lois Kolkhorst (R–Brenham), would bar any "individual who is a citizen of China, Iran, North Korea, or Russia" from buying property in Texas. S.B. 147 would also block government and corporate entities of those nations from purchasing or acquiring property in the state. Last month, Texas Gov. Greg Abbott announced that he would sign the bill if passed.
When she introduced S.B. 147, Kolkhorst cited "highly disturbing" instances of foreign entities buying property in Texas and elsewhere in the United States. But certain aspects of the legislation are themselves disturbing, and its vague wording leaves the door open for dubious state action—including against citizens who have nothing to do with the evils of their governments.
Kolkhorst has stressed that "prohibitions do not apply to United States citizens and lawful permanent residents." Likewise, Abbott says the bill "doesn't impact at all people who either are citizens or intend to be citizens of the United States." But the bill in its current form makes no such guarantees or explicit mention of applicability to dual citizens. According to Houston's KHOU 11, Kolkhorst's office last month sent the station "a statement that said the bill will eventually make clear it does not apply to lawful permanent residents. However, her staff admitted on the phone, the bill, as it stands, makes no such distinction."
"On its face the bill applies to anyone who is a citizen of those countries regardless of their status in the United States," says David J. Bier, associate director of immigration studies at the Cato Institute. "However, contextually, it seems like the authors intended to make it an exception to the equal rights provision that applies to aliens." Even if they clarify that exception, Bier notes that "legal permanent residents are still considered aliens by the federal government" and that there seems to be nothing "in Texas statutes defining the word alien to exclude 'people who intend to be citizens' or legal permanent residents."
Those groups aside, Bier says the legislation "would cover every other national of these countries: primarily, illegal residents, student visa holders, and skilled workers without permanent residence." It would also apply to foreigners working as entertainers and athletes. "It's interesting that one of the state's most important athletes of the 2000s was Yao Ming," he notes, "who would be prohibited from owning property under this law."
Other Republican-led states have also begun to scrutinize foreign land purchases. In January, Florida Gov. Ron DeSantis expressed an interest in halting Chinese purchases of farmland and homes in his state. There are reasonable policy debates to be had here, but the Texas bill lacks nuance. By singling out citizens and not just government-connected entities, it could very well end up harming foreign nationals who are fleeing the governments that American politicians want to punish. That could include people like Jo Jo Wang, a Houston restaurateur interviewed by KHOU 11 who says she's kept her Chinese citizenship "to make visiting family easier and to avoid communist government backlash."
State Rep. Gene Wu (D–Houston), who opposes S.B. 147, noted that "there is no discernment about what type of land is being purchased or who is doing the purchasing." Though a press release from Kolkhorst criticized foreign purchases of vast swathes of land near military bases and in agricultural areas, her legislation does not differentiate between those properties and residential ones. "It targets individuals indiscriminately," said Wu.
David Donatti, staff attorney at the American Civil Liberties Union of Texas, calls S.B. 147 "an unconstitutional attempt to erode the rights of immigrants in the state." The Constitution "guarantees equal protection and due process to citizens and non-citizens alike," he says. "The discriminatory bill would prohibit members of our communities from participating in the Texas economy, including dual citizens and legal permanent residents, such as green card holders."
If passed, the legislation could act as a serious deterrent to immigrants weighing where to settle in the United States. As Stuart Anderson, executive director of the National Foundation for American Policy, noted in a Forbes column last week, "Individuals from the affected countries could start making decisions on where to work or study to avoid Texas," and "companies might become alarmed if employees are treated differently under Texas law based on their place of birth."
"Prohibiting long-term noncitizen residents from owning property will certainly discourage them from living [in] Texas," says Bier. Ultimately, that "will harm the value of property in the state and discourage business investment."
The post This Texas Bill Could Bar Certain Immigrants From Buying Property in the State appeared first on Reason.com.