Disney Stock Soars On Job Cuts, Cost Savings After Disappointing Streaming Subs
February 8, 2023 | Tags: ZEROHEDGE
Disney Stock Soars On Job Cuts, Cost Savings After Disappointing Streaming Subs
Out of the gate, Disney looked good with a top- and bottom-line beat:
1Q Rev. $23.51B, Est. $23.39B

1Q Adj EPS 99c, Est. 74c
With the Parks segment revenues beating expectations ($8.74bn vs $8.08bn est).
However, Disney's streaming (direct-to-consumer) business lost $1.1 billion in the quarter (less than the previous quarter, when it lost $1.5 billion) but all the segments disappointed in terms of subscribers, with overall streaming growth largely stalled domestically. Disney+ had just 200,000 new customers in the US and Canada last quarter. ESPN+ and Hulu, which are US-focused services, saw just a 2% increase in their subscribers.
Disney 1Q Disney+ Subscribers 161.8M, Est. 164M

1Q ESPN+ Subscribers 24.9M, Est. 25.7M

1Q Total Hulu Subscribers 48.0M, Est. 49M

1Q Hulu & Live TV Subscribers 4.5M, Est. 4.6M
Disney+ posted a rare loss of subscribers in the quarter, shedding more than two million customers compared to the previous quarter. Most of the decline came from Hotstar, which recently lost the broadcast rights to Indian cricket. Disney+ now has 162 million subscribers.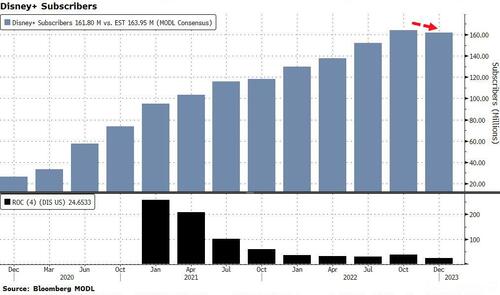 The initial gains in the stock after hours evaporated on the disappointing sub growth (or shrinkage), but then came the conference call...
CEO Bob Iger says "we are embarking on a significant transformation" and said he plans "to reshape our company around creativity, while reducing expenses."
This "will lead to sustained growth and profitability for our streaming business, better position us to weather future disruption and global economic challenges, and deliver value for our shareholders."
Iger says the company will now have three core business segments:
Disney Entertainment,

ESPN, and

Disney Parks Experiences and Products.
But the big news is that Iger announced Disney would cut 7,000 jobs in the restructuring with plans to seek $5.5 billion in cost savings.
The reductions include lower spending on programming and $2.5 billion in non-content related cuts.
About $1 billion of the savings are already underway, Iger said on a conference call with investors Wednesday.
The reorganization is intended to improve profit margins, Iger said, and represents his third major transformation of the business following efforts to beef up its film franchises through acquisitions and the development of its online business.
Additionally, Iger maintains Disney+ profitability goal for end of fiscal year 2024.
Iger says the company will ask the board to reinstate the dividend by the end of the calendar year, saying the impacts from the pandemic are fading.
He says Disney's cost-cutting initiatives will make this possible.
All of which sent the stock soaring...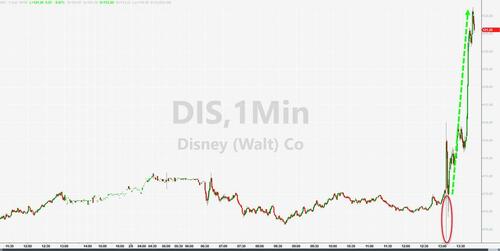 Finally, we note that Disney will no longer provide long-term subscriber guidance "to move beyond short-term quarterly metrics" and focus on profitability, Iger says.
Tyler Durden
Wed, 02/08/2023 - 16:54