Don Lemon Off Air (Again) Monday Following Growing Fallout From His Sexist Comments About Nikki Haley
February 20, 2023 | Tags: ZEROHEDGE
Don Lemon Off Air (Again) Monday Following Growing Fallout From His Sexist Comments About Nikki Haley
If you were tuned into CNN this morning (we'll pause for laughter), you may have noticed that for the second straight business day, anchor Don Lemon was missing from the set of "CNN This Morning".
Lemon was conveniently given another day off Monday, bringing his "missed show" total since his sexist remarks about Presidential Candidate Nikki Haley up to 2. 
Sources are now saying that "a new schedule is in place per CNN management", absent Lemon, and that "Poppy Harlow will be accompanied by Sara Sidner and Kaitlan Collins". 
The source told the Post Millennial this weekend: "There are ongoing conversations about Don's future. He is a constant distraction."
"His remarks were upsetting, unacceptable, and unfair to his co-hosts, and ultimately a huge distraction to the great work of this organization," CNN boss Chris Licht said late last week.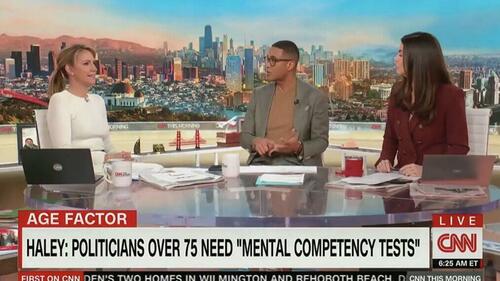 Recall we reported last week that Lemon's co-hosts had "stormed off the set" after his brilliant commentary about Nikki Haley, wherein the 57 year old Lemon accused the 51 year old Haley of being "past her prime". 
Poppy Harlow and Kaitlan Collins reportedly both took a "well timed bathroom break" after Lemon's comments, before coming back to finish the show. 
The Mail wrote that "the comments were the last straw in an already deteriorating relationship between the news professionals, with Collins and Harlow increasingly fed up with Lemon's behavior since coming on board."
"Nikki Haley isn't in her prime, sorry. A woman is considered to be in her prime in her 20s and 30s and maybe 40s," Lemon said in a broadcast early last week. When his morning show co-host, Poppy Harlow, pushed back on the claim, Lemon told her and the CNN audience to "Google it". 
The comments sparked outrage from sources across the political spectrum, including the likes NPR, who referred to the comments as "sexist". 
As we noted then, the incident appears to us to be the final swirl of Don Lemon's TV career down the toilet, following the likes of Chris Cuomo and Brian Stelter. 
Recall, back in September 2022 we wrote about Lemon's obvious demotion from primetime to mornings on CNN. At the time, he said: "For all those who are out there saying, 'Oh, he moved me and without my —,' he asked me and I said yes. I could have said no. This is my show, I have a contract for this show, I decided I would take him up on that and take this journey with him. This is not someone moving me."
Tyler Durden
Mon, 02/20/2023 - 14:30