In Syria and Turkey, Helping Earthquake Victims Is a Crime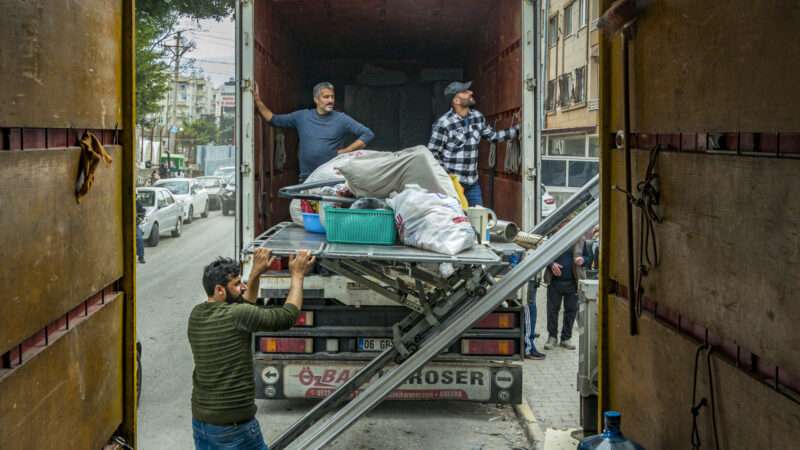 In the aftermath of the earthquake that pulverized southern Turkey, nationalist politician Devlet Bahçeli went on a televised rant about the "vultures" seeking to exploit the tragedy. He wasn't talking about looters or profiteers. Bahçeli was infuriated that a pair of celebrities was raising money for earthquake victims on their own, and thus "overshadowing the credibility of the state."
Turkey and Syria are reeling from the worst earthquake the region has seen in eight decades. Entire cities, including the biblical Antioch, have been turned into dust. (A smaller quake on February 20 caused additional damage.) Authorities report nearly 46,000 dead, a number that continues to climb as rescuers comb through the rubble. Millions of people have been forced to sleep in cars or tents amid freezing temperatures.
Tectonic plates are not the only forces acting on the region. Turkey has a hotly contested election coming up in a few months, leaving the government sensitive to any potential embarrassment. Across the border, Syria has suffered over a decade of civil war, leaving the country split between armed rebels and a paranoid, diplomatically isolated government under U.S. sanctions.
Leaders have let concerns about protecting their image—and denying a good image to their enemies—get in the way of relief efforts.
Turkish politicians have every reason to worry about the effects of the earthquake on their political fortunes. The ruling Justice and Development Party (AKP) took power in the wake of a 1999 earthquake, which had destroyed the credibility of the Turkish political class and left the field open for AKP candidates.
During its two decades of electoral dominance, the AKP treated construction work as the engine of economic growth. With the help of hefty government subsidies, infrastructure programs and housing projects became the symbol of new Turkish prosperity. The government even collected an "earthquake tax" that was supposed to help build earthquake-resilient structures.
That vision has come crumbling down, both literally and figuratively. The AKP has tried to make up for it by appearing in control of the relief efforts. (Bahçeli belongs to a different party but is a close AKP ally.) The government is conscious that the current disaster could cause a repeat of the very political wave that put it in power.
Authorities have lashed out at efforts that could undermine their image, even sending soldiers to confiscate aid that was collected by a Kurdish opposition party and pro-opposition labor unions.
Meanwhile, most of the earthquake damage in Syria has taken place in the rebel-held north. The Syrian government has dragged its feet on allowing aid in. It took several days to authorize new border crossings into rebel territory, a measure that Human Rights Watch called "too little, too late."
The Syrian government has used access to aid as a way to punish and reward its citizens, even before the latest disaster. United Nations agencies in the country have also been accused of corruption. When the Kurdish Red Crescent, a group that models itself on the Red Cross, tried to send earthquake relief to Aleppo, soldiers reportedly demanded that the drivers hand over half of their supplies. 
The rebels themselves are divided between several factions, including a Turkish-backed puppet government, a Kurdish-led coalition, and Islamist guerrillas under the leadership of Abu-Mohammad al-Jolani, who quit his job leading Al Qaeda's local franchise to set up a big-tent rebel alliance.
Islamist rebels have refused to accept aid deliveries from government territory. Jolani claimed publicly that his forces "don't have teams ready" to process aid deliveries from government territory. However, an unnamed source in Jolani's group told Reuters that the rebels "won't allow the regime to take advantage of the situation to show they are helping."
The Turkish-backed rebels have publicly rejected aid on political grounds. After a convoy from Kurdish areas showed up to provide aid, rebel leader Abdurrahman Mustafa accused the Kurdish-led coalition of "exploiting the pain of Syrians to score political points and put on good appearances" and alluded to the civilians previously killed by Kurdish insurgent activity.
Jolani and Mustafa both insisted that international aid should be sent directly to areas under the control of their forces.
The United States has imposed economic sanctions banning trade with Syria, ostensibly because of human rights abuses in the country. Aid groups have complained that the sanctions get in the way of their work.
Officially, the sanctions include exemptions for "humanitarian" goods. However, the U.S. Treasury recently issued a temporary exemption for "all transactions related to earthquake relief efforts in Syria that would otherwise be prohibited by the Syrian Sanctions Regulations," which suggests that U.S. officials knew the sanctions were getting in the way of aid work.
The sanctions also explicitly ban "reconstruction" work in Syrian government territory. (The idea is to deny the government the fruits of a "military victory" over the opposition.) In other words, U.S. law allows U.N. agencies to deliver blankets and heaters for homeless residents of Aleppo but bans foreign contractors from actually rebuilding those people's homes.
Turkish President Recep Tayyip Erdoğan has philosophized a lot about natural disasters lately, claiming that the earthquake was just "part of fate's plan." That may be so. But the aftermath of the tremor was the result of choices by powerful actors. Many of these choices led to predictable, or perhaps even intentional, civilian suffering.
Turkish researcher Dilek Türközü recently said that "geography is destiny, but negligence is a choice." So is malice.
The post In Syria and Turkey, Helping Earthquake Victims Is a Crime appeared first on Reason.com.