Mediocre, Tailing 2Y Auction Prices At Highest Yield Since July 2007
February 21, 2023 | Tags: ZEROHEDGE
Mediocre, Tailing 2Y Auction Prices At Highest Yield Since July 2007
After two months of declines, in February the high yield on the 2Y auction exploded higher, and in the Treasury's sale of $42 billion in 2Y paper completed moments ago, the US had to pay interest of 4.673%, up from 4.152%, and tailing the When Issued 4.670% by 0.3bps. The yield was also the highest going back to July 2007.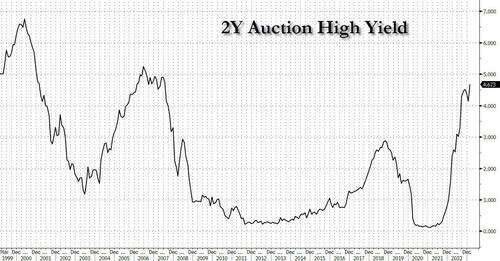 Amusingly, at the exact same time, today's 52-Week Bill auction also closed. Its yield: 4.795%, so yes - the curve is now inverted at that 1Y-2Y kink. 
The bid to cover on today's 2Y auction was 2.613, a sharp drop from last month's 2.944 which was the highest since the Covid lockdown days of May 2020. Today's BtC was also below the recent, six-auction average of 2.65%.
The internals were also rather forgettable, with Indirects awarded 62.04%, the lowest since November, but above the recent average, due to the ugly September and October '22 auctions. And with Directs awarded 23.0%, that left dealers with just 14.97%, which while not a record low for the series wasn't that far off.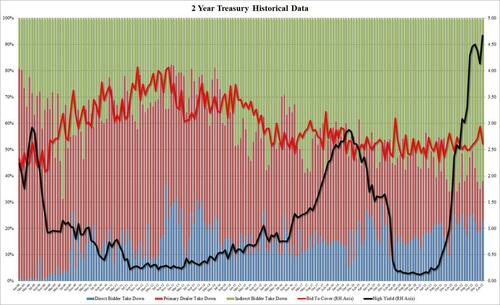 Bottom line: this was a mediocre, tailing and overall forgettable auction, if hardly terrible and a reflection of the market's overall mood today which has seen risk hammered across the board, and yields across the curve jumping to the highest since November.
Tyler Durden
Tue, 02/21/2023 - 13:22