Over 1 Million Gallons Of Contaminated Water Excavated From Ohio Train Derailment Site
February 21, 2023 | Tags: ZEROHEDGE
Over 1 Million Gallons Of Contaminated Water Excavated From Ohio Train Derailment Site
Authored by Katabella Roberts via The Epoch Times (emphasis ours),
Around 15,000 pounds of contaminated soil and 1.1 million gallons of contaminated water have been excavated from the site of a train derailment earlier this month in East Palestine, Ohio, train operator Norfolk Southern said on Feb. 20.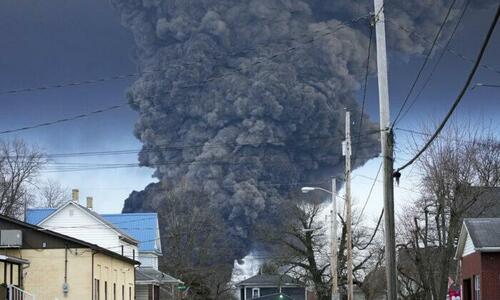 The announcement comes shortly after a state senator warned people living in close proximity to the derailment not to drink or bathe in the water.
Norfolk Southern said that the excavated contaminated soil and water will be transported to landfills and disposal facilities that are "designed to accept it safely in accordance with state and federal regulations."
"Additionally, a series of pumps have been placed upstream to reroute Sulphur Run around the derailment site," the carrier said. "The affected portion of Sulphur Run has been dammed to protect water downstream."
"Environmental teams are treating the impacted portions of Sulphur Run with booms, aeration, and carbon filtration units," Norfolk Southern said, adding that those teams are "also working with stream experts to collect soil and groundwater samples to develop a comprehensive plan to address any contamination that remains in the stream banks and sediment."
The train, carrying about 50 freight cars, was traveling from Madison, Illinois, to Conway, Pennsylvania, on Feb. 3 when it derailed in East Palestine.
State officials ordered the evacuation of a 1-mile radius surrounding the crash site shortly after the incident but lifted those evacuation orders after crews burned the chemicals onboard, which included vinyl chloride, ethylhexyl acrylate, ethylene glycol monobutyl ether, and butyl acrylate, in a controlled release on Feb. 6.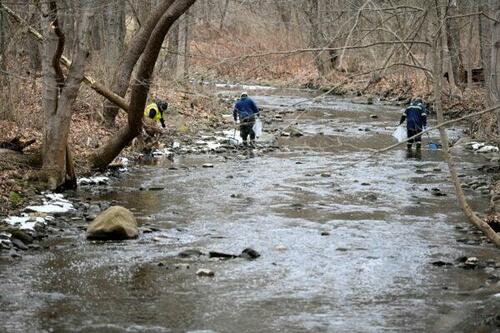 Concerns over Cancer-Causing Pollutants
The controlled release also sent phosgene and hydrogen chloride into the air.
At the time the order was lifted, officials declared that it is safe for residents to return to the area after monitoring the air and water in surrounding communities and claiming they were not affected.
Read more here...
Tyler Durden
Tue, 02/21/2023 - 17:40