Target Bets $100 Million To Be "Bigger, Faster, Better Than Before"
February 22, 2023 | Tags: ZEROHEDGE
Target Bets $100 Million To Be "Bigger, Faster, Better Than Before"
Next-day delivery has become increasingly important to consumers since the pandemic forced sales to move online. The rise of e-commerce and the demand for instant gratification has pushed Target Corp. to invest $100 million to expand supply chain hubs to speed up and lower the costs of delivering online orders. 
Target, the eighth-largest retailer in the US, plans to invest $100 million to expand its supply chain sortation network to more than 15 facilities by the second half of 2026. The move will allow the retailer to increase next-day delivery capabilities to major markets nationwide. 
"Sortation centers and our Last Mile Delivery capabilities support our guest experience and benefit our business — helping us deliver more efficiently and faster, at a lower cost while increasing our capacity," the company said in a press release.
Currently, there are nine sortation centers in Minnesota, Texas, Colorado, Illinois, Georgia, and Pennsylvania, including three in the greater Chicago and Denver metro areas.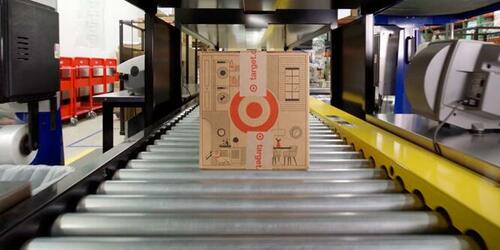 Target wants to be "Bigger, faster, better than before," the press release said. Perhaps, this is a move to compete with Amazon.com Inc. and Walmart Inc., which already offer rapid shipping to customers in many areas across the country. 
The investment comes as sortation centers have already recorded incredible growth as consumers shift to online orders: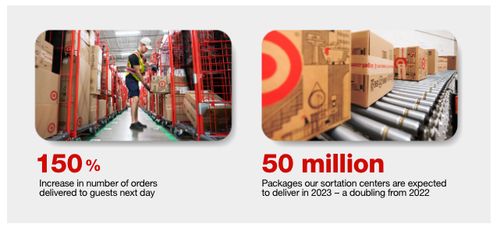 Gretchen McCarthy, Target's chief global supply chain & logistics officer, stated in the press release:
"Now more than ever, our guests rely on us to deliver their everyday essentials and Target favorites when they want and need them most.

"Through our sortation centers and Target Last Mile Delivery capabilities, we're able to move faster and with more precision — while controlling costs and expanding our network capacity — for years to come."
The company is betting on e-commerce growth despite evidence showing retailers are dealing with near-record high inventory glut and consumers suffering from 21 months of negative real wage growth. 
Retailers can only hope the US government will helicopter drop more 'stimmy checks' if another crisis arises. 
Tyler Durden
Wed, 02/22/2023 - 21:25