More Than 1,700 Flights Canceled As Major Winter Storm Engulfs Much Of US
February 23, 2023 | Tags: ZEROHEDGE
More Than 1,700 Flights Canceled As Major Winter Storm Engulfs Much Of US
Authored by Jane Nguyen via The Epoch Times (emphasis ours),
More than 1,700 U.S. flights have been canceled on Wednesday as massive winter storms threaten to bring record snowfall across the country, with disruptions set to continue through Thursday.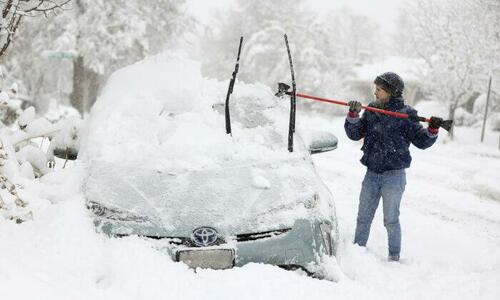 A total of 1,772 flights in and out of the country had been canceled while 6,705 flights were delayed, according to flight tracking site FlightAware.
Skywest, Delta, and Southwest have the highest number of canceled flights among U.S. Airlines, impacting between 7 and 19 percent of their scheduled flights.
The airport that saw the highest number of cancelations was the Minneapolis−St. Paul International Airport, where 205 outgoing and 223 incoming flights were canceled, accounting for 45 percent and 50 percent of those scheduled, respectively. The Denver International Airport and Detroit Metropolitan Wayne County Airport each had more than 100 outgoing or incoming flights canceled on Wednesday.
As of Thursday morning, 759 flights had been canceled with 7,426 delays.
Southwest Airlines has issued winter weather waivers for about a dozen airports.
Delta Air Lines has issued waivers for Upper Midwest winter weather  and Rockies and Mountain regions winter weather.
American Airlines and United have also issued winter weather waivers for travel this week.
According to the Department of Transportation, anyone whose flight is canceled has the right to a refund, regardless of the type of ticket booked.
Severe Weather
The National Weather Service issued winter storm, blizzard, and high-wind advisories for swaths of the western and the north-central U.S., with up to 2 feet of snow expected in some areas through Thursday.
Wyoming's Transportation Department posted on social media that roads across much of the southern part of the state were impassable.
Powerful winds were the biggest problem in California, toppling trees and power lines. By Wednesday evening, more than 65,000 customers in the state were without electricity, according to PowerOutage.us.
For the first time since 1989, the National Weather Service issued a blizzard warning for Southern California mountains that runs through Saturday. Some coastal areas could see 10-foot (3-meter) waves through Thursday, forecasters said.
A more than 200-mile stretch of Interstate 40 from central Arizona to the New Mexico line closed due to snow, rain, and wind gusts of up to 80 mph. More than 8,000 customers were without power in Arizona.
In the northern U.S., more than 18 inches may pile up in parts of Minnesota and Wisconsin, the National Weather Service said Wednesday evening. According to the weather service, the biggest snow event on record in the Twin Cities was 28.4 inches from Oct. 31 through Nov. 3, 1991.
The storm will make its way toward the East Coast later this week. Places that don't get snow may get dangerous amounts of ice. Forecasters expect up to a half-inch (1.3 centimeters) of ice in parts of southern Michigan, northern Illinois, and some eastern states.
More than 192,000 customers in Michigan and nearly 89,000 in Illinois were without electricity Wednesday evening, according to PowerOutage.us.
Tyler Durden
Thu, 02/23/2023 - 16:24