Ugly, Tailing 7Y Auction Prints At Highest Yield On Record
February 23, 2023 | Tags: ZEROHEDGE
Ugly, Tailing 7Y Auction Prints At Highest Yield On Record
Exactly two years after a catastrophic, borderline failed 7Y auction spiked yields across the curve in what was at the time the first harbinger of the coming inflationary wave, moments ago we had another 7Y auction that while not nearly as ugly, was anything but good.
The high yield of 4.062% was not just a whopping 55bps higher than the 3.517% from January, but was also the highest on record, since the 7Y maturity was introduced in early 2009; by comparison the record low for the 7Y was 0.446% from July 2020; even more ominously, the auction tailed the When Issued 4.047% by 1.5bps, which was the 4th tailing auction in the last five.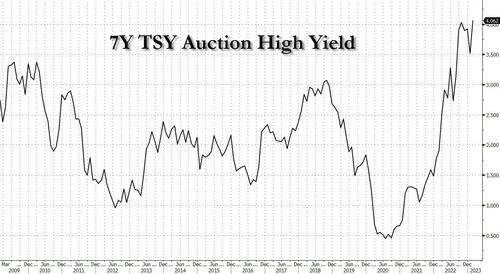 The bid to cover dropped from last month's 2.691, to 2.490 which was below the six-auction average of 2.52.
The internals were also disappointing, with Indirects awarded 65.5%, down sharply from last month's 77.1% and below the recent average of 68.1%; and with Directs taking down 20.8%, or the most since October, Dealers were left holding 13.7% of the auction, on of the lowest Dealers awards on record.
Overall, while not quite as ugly as the Feb 2021 7Y disaster, today's auction was the latest in a series of lousy coupon sales which saw lousy demand and even worse market digestion; the fact that this was the last coupon auction until the second week of March adds to the concern that demand in the primary market may be slipping fast now that the inflation genie is once again out of the bottle.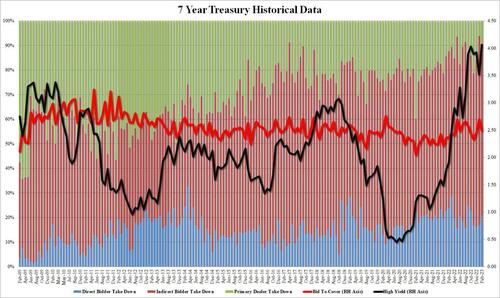 Tyler Durden
Thu, 02/23/2023 - 13:21