UMich Inflation Expectations Rose In Feb, Sentiment Soars For Republicans
February 24, 2023 | Tags: ZEROHEDGE
UMich Inflation Expectations Rose In Feb, Sentiment Soars For Republicans
The headline from the University of Michigan sentiment survey continues to be inflation expectations. After the preliminary February print showed an unexpected rebound in short-term inflation expectations, all eyes were on today's final print which slipped a little from flash but is still higher MoM (4.1% final vs 4.2% flash vs 3.9% prior)...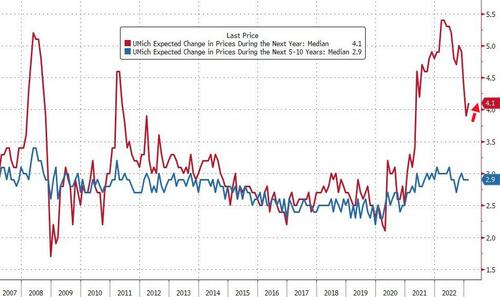 Source: Bloomberg
Consumer sentiment confirmed the preliminary February reading, rising a modest 3% above January. After lifting for the third consecutive month, sentiment is now 17 index points above the all-time low from June 2022 but remains almost 20 points below its historical average.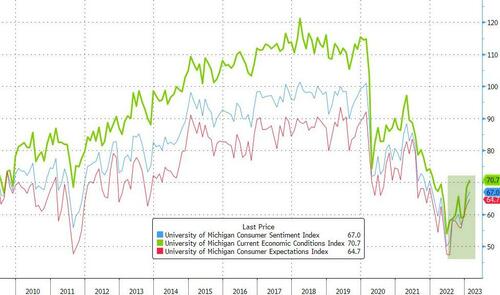 Source: Bloomberg
Consumers with larger stock holdings exhibited particularly large increases in sentiment. Overall, February's reading was supported by a 12% improvement in the short-run economic outlook, while all other index components were essentially unchanged.
Buying Conditions held on to their modest improvements off the lows...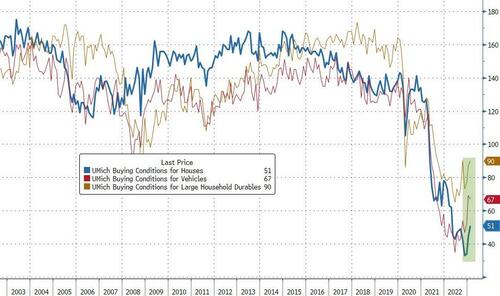 Source: Bloomberg
Finally, we note that Republicans and Independents are seeing sentiment soar in recent months while Democrats' confidence has been flat...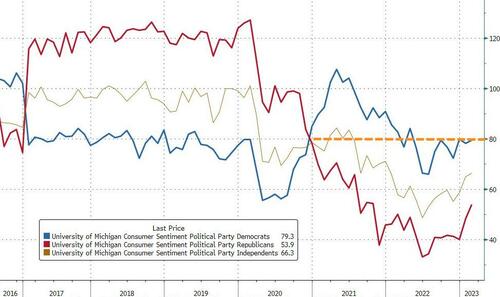 Source: Bloomberg
So overall, add this to the list of things that don't support a Fed pivot!
Tyler Durden
Fri, 02/24/2023 - 10:19