Watch: MSNBC Talking Head Calls GOP "Front For A Terrorist Organisation"
February 24, 2023 | Tags: ZEROHEDGE
Watch: MSNBC Talking Head Calls GOP "Front For A Terrorist Organisation"
Authored by Steve Watson via Summit News,
MSNBC extremist contributor Jason Johnson declared Thursday that the Republican Party no longer exists and that it is now just a front for a terrorist organisation.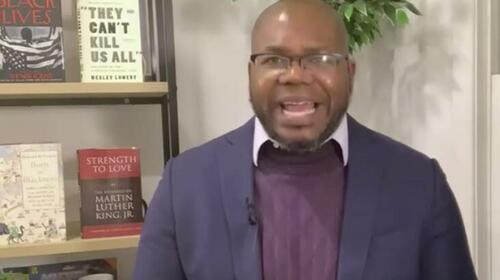 Johnson made the comments during a discussion centred on the release of previously unseen footage from the January 6th Capitol incident.
House Republican Speaker Kevin McCarthy's provided the unreleased security camera footage to Fox News host Tucker Carlson, immediately triggering the far left.
Johnson commented on the move, stating "I'm not being incendiary when I say this, I've been saying this for a long time… There is no Republican Party. They're a dime store front for a terrorist organization."
"You took an investigation into a federal attack, an attack on our federal government, and gave it to a journalist who is a supporter of terrorism," Johnson charged, adding "This is dangerous."
Johnson whined that that Carlson "doesn't have security clearance," and declared "we don't know if it ends with Tucker Carlson! He can hand it to anybody else. He can hand it to Jesse Waters, right? He can hand it to anybody. All sorts of incompetent people who are in favor of overthrowing this government in a violent fashion."
Johnson went on, "there are terrorists in this world, [and] some in Congress right now, who want to overthrow our legitimately elected government. And they've just given this man information that he can distribute to anybody." 
Watch:
Imagine for a second what the result would be if the videos had been provided to MSNBC, rather than Carlson.
The footage given to Carlson amounts to around 44,000 hours of video from the security cameras at the Capitol.
Leftists are freaking out about the move solely because Carlson has previously questioned the established narrative of what went down, and highlighted how it has been used as propaganda by Democrats.
"A Propaganda Lie": Tucker Carlson Sums Up Democrats' Blockbuster TV Show Trial
*  *  *
Brand new merch now available! Get it at https://www.pjwshop.com/
In the age of mass Silicon Valley censorship It is crucial that we stay in touch. We need you to sign up for our free newsletter here. Support our sponsor – Turbo Force – a supercharged boost of clean energy without the comedown. Also, we urgently need your financial support here.
Tyler Durden
Fri, 02/24/2023 - 18:20