"Winter May Finally Arrive": New York City Braces For Snowstorm
February 27, 2023 | Tags: ZEROHEDGE
"Winter May Finally Arrive": New York City Braces For Snowstorm
With only three weeks until the spring season, the National Weather Service forecasts a winter storm could blanket Manhattan's Central Park with as much as 5 inches. A nearly yearlong "snow drought" would end for the metro area if frozen precipitation accumulates on Tuesday morning. 
NWS has posted winter storm advisories for New York City and Long Island. Forecasts show between 3-5 inches of snow is expected. There could be times snow transitions to sleet and rain. Warnings are posted for interior areas that could see 5-8 inches.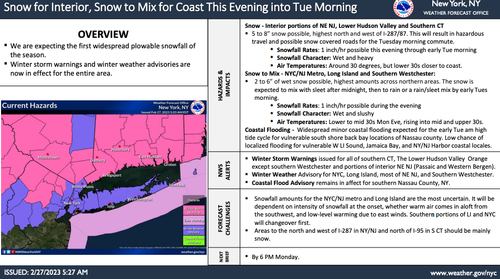 NWS expects the snow to begin around Monday evening and last through Tuesday morning.
Here are the latest snowfall accumulation forecasts.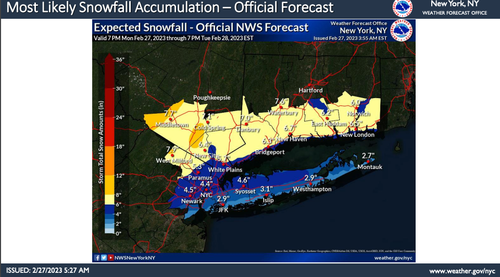 For NYC residents, this wintery event will be "their first snowstorm of the year at this point," David Roth, a senior branch forecaster with the US Weather Prediction Center, told Bloomberg. The Northeast has recorded unseasonably warm temperatures so far this season. 
Winter may finally arrive in #NYC today. ❄️@HeatherWxTv says 3 to 6 inches of snow is expected today. The snow will start around 6 p.m. and continue through Tuesday afternoon. ☃️ pic.twitter.com/vjv28gckCv

— NY1 Weather (@NY1weather) February 27, 2023
A lot more snow is expected to fall across the interior Northeast. 
Say it ain't snow! ❄️ A developing coastal low is forecast to bring accumulating snow to the Northeast tonight into tomorrow, with the heaviest amounts confined to the interior. Some locations (NYC 😉) that have yet to record 1" of snow this winter may do so with this storm. pic.twitter.com/aXCh9sTkmS

— NWS Weather Prediction Center (@NWSWPC) February 27, 2023
Mean temperatures for Manhattan are already turning higher on a 30-year seasonal average. An indication spring is around the corner.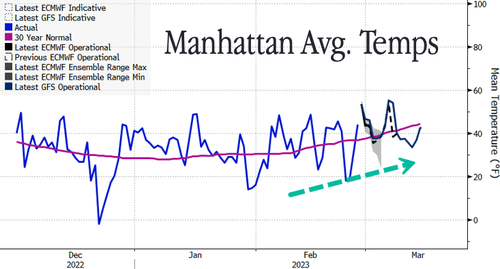 This could be the last time to sled or cross-country ski this winter season in Central Park. 
Tyler Durden
Mon, 02/27/2023 - 15:04