Tesla Slumps 7% After Investor Day Falls Short On Details
March 2, 2023 | Tags: ZEROHEDGE
Tesla Slumps 7% After Investor Day Falls Short On Details
Shares of Tesla are down more than 7% in pre-market trading after the company's Investor Day, held yesterday afternoon, failed to impress the street. News outlets on Thursday morning are calling the presentation "underwhelming" and light on short-term specifics. 
Of note was the lack of specifics relating to how the company would be expanding its product lineup, which has begun to stagnate over the last several years. And, unlike past presentations and prognostications by Elon Musk publicly, this one had a "lengthy disclaimer" appended to the beginning of it, ARS Technica noted.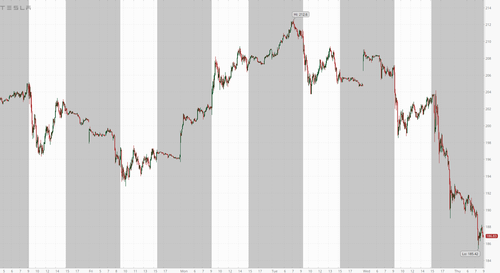 Over the course of 3 hours, Elon Musk laid out the third stint of the company's "Master Plan", wherein he offered little specific guidance about the company's future, but for a couple of examples.
The company "reiterated Tesla's goal to grow in production, from 1.3 million EVs in 2022 to 20 million EVs in 2030," ARS Technica noted, and discussed some of the manufacturing streamlining that would be necessary to implement the future growth, including vertical integration. 
The company also said it would be refining its own lithium in Texas, a site they expect to be "producing the mineral for use in batteries within 12 months", SVP of powertrain and energy engineering Drew Baglino said. 
The company also announced a new drive use using a rare earth-less permanent magnet motor, though a timeline on full scale production and implementation was unclear. Tesla VP for Powertrain Engineering Colin Campbell's presentation about the rare earth-less drive train said that it would use "zero grams of rare earths". 
Tesla also teased the idea of a "wireless" home charger for vehicles, Teslarati noted.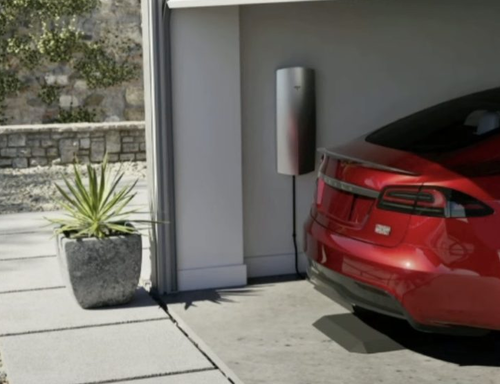 During Tesla Head of Global Charging Infrastructure Rebecca Tinucci's presentation, a slide appeared that appeared to show a wireless home Supercharger for vehicles. "A wireless charging system for Teslas would be nothing short of a game-changer," Teslarati noted, but the presentation offered little in the way of details about the potential for such technology to roll out. 
Conspicuously absent from the presentation were updates to the Model Y or the now-eight-years old Model 3.
However not everybody was pessimistic about the presentation, with Goldman writing in a note on Friday morning: "The bottom line is that we believe the event should increase investor confidence in Tesla's ability to reduce costs by ~50% with its next generation platform, given the breadth and depth of Tesla's team and how its vertically integrated model allows it to optimize on both cost and performance criteria."
Analyst Mark Delaney continued: "Tesla provided significant insights into how various teams are working to reduce cost, scale, and improve capabilities. We believe the company was able to show good progress in areas such as casting, 4680 cells (such as with the dry coating of the electrodes), semiconductors/power electronics and software. However, we believe many investors were hoping for more specifics on when a third generation vehicle could be shipping, and therefore the lack of clarity beyond the comment that they're working as fast as they can and it could be in the next couple of years is likely to be viewed as a disappointment to some."
Morgan Stanley's Adam Jonas wrote in a note Friday morning that "Tesla's audacious efforts on vertical integration are about to pay off. EVs are far too expensive today. Tesla gave a number of drivers for a 50% cost reduction for its next-gen platform. In a race to the bottom, we seriously question how the competition can keep up."
You can watch the full presentation here:
Tesla Investor Day https://t.co/kcJWQcAFkJ

— Tesla (@Tesla) March 1, 2023
Tyler Durden
Thu, 03/02/2023 - 09:35