Industrial Production Beats After Near-Record Surge In Utility Output To Heat March Freeze
April 14, 2023 | Tags: ZEROHEDGE
Industrial Production Beats After Near-Record Surge In Utility Output To Heat March Freeze
On the surface today's Industrial Production number was solid, coming in at 0.4%, double the expected 0.2%, and following an upward revised 0.2% (from 0.0%), it certainly put a dent in expectations for an imminent recession, or so one would think.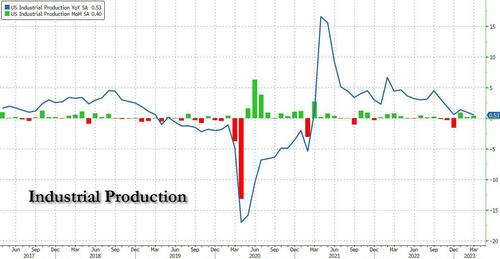 That's because the number is only "solid" until one reads the fine print, because all of the upside was due to a near record surge in Utility output, up some 8.4% M/M, as the return to more seasonal weather after a mild February sent the demand for heating soaring. Meanwhile both Manufacturing output and Mining shrank by 0.5%, confirming that the economic slowdown is indeed coming. Furthermore, the Mining component is now down 4 of the past 5 months.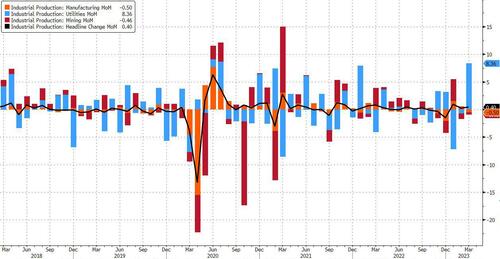 Some more details on the all important Manufacturing output data:
Manufacturing output decreased 0.5 percent in March and was 1.1 percent below its year-earlier level. For the first quarter as a whole, the manufacturing sector edged up 0.3 percent at an annual rate. The indexes for durable manufacturing and nondurable manufacturing moved down 0.9 percent and 0.1 percent in March, respectively, while the index for other manufacturing (publishing and logging) fell 0.7 percent. Most durables industries posted losses; wood products posted the largest drop, of 2.9 percent, followed by nonmetallic mineral products, which fell 2.6 percent. Within nondurables, gains of at least 1 percent were registered by apparel and leather and by petroleum and coal products; chemicals posted the largest loss, at 0.9 percent.
Turning to mining output, the number dropped 0.5 percent in March, with declines in the indexes for oil and gas extraction, other mining, and support activities.
Finally, as noted above, the output of utilities jumped 8.4 percent, with advances for both electric and natural gas utilities on the back of a surge in heating demand.
Confirming the ongoing slowdown, capacity utilization for manufacturing moved down 0.5 percentage point in March to 78.1 percent, a rate that is 0.1 percentage point below its long-run average. The operating rate for mining fell 0.5 percentage point to 91.1 percent, while the operating rate for utilities jumped 5.6 percentage points to 75.3 percent. The rate for mining was 4.7 percentage points above its long-run average, while the rate for utilities remained substantially below its long-run average.
Overall, if the Fed is hoping its actions will push the economy into a recession, today's IP data confirms as much.
Tyler Durden
Fri, 04/14/2023 - 09:41