Tesla Shares Dip After Company Slashes Prices Yet Again, This Time In Europe, Israel And Singapore
April 14, 2023 | Tags: ZEROHEDGE
Tesla Shares Dip After Company Slashes Prices Yet Again, This Time In Europe, Israel And Singapore
Tesla is once again slashing prices to help spur demand, and Wall Street isn't necessarily taking it as a good sign. Shares dipped about 2% in the pre-market session on Friday (before rebounding and then selling off back to the lows) after it was reported that the company would be slashing the price of its vehicles in Europe, Israel and Singapore.
Tesla said it "cut prices in numerous European markets including Germany and France because of a scaling up and improvement in its production capacity," according to a Reuters report out Friday morning.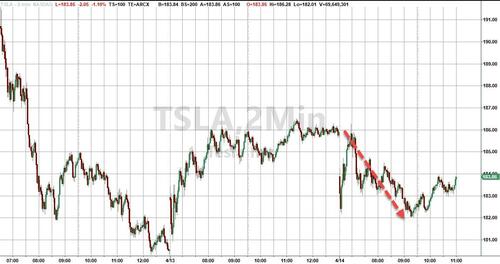 Prices in Germany for the Model 3 and Model Y were cut between 4.5% and 9.8%, marking the second price cut for the country this year, the report says. Singapore saw price cuts of between 4.3% and 5% and Israel saw price cuts of an astounding 25% for the base rear-wheel drive Model 3. 
Just days ago we wrote about the fifth set of price cuts Tesla put into place in order to drive demand. Last week, the company cut the Model S and Model X vehicles by $5,000 to $84,990 and $94,990 and cut its Model 3 and Model Y vehicle by $1,000 and $2,000, lowering their base prices to $41,990 and $49,990.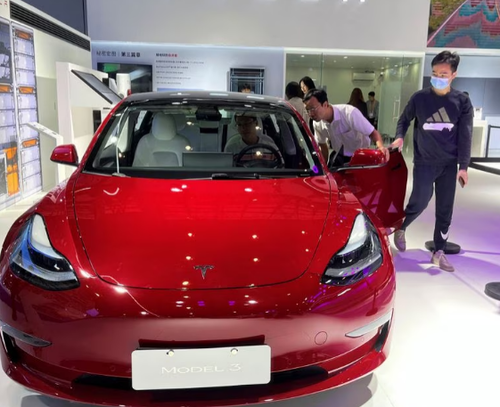 Despite taking a hit on margin, the company has seen some success with its price cuts. At the beginning of April, the company reported that it sold 88,869 units of China-made electric vehicles for the month of March, a 35% increase from a year ago, according to data from the China Passenger Car Association (CPCA). 
The figure was up 19.4% sequentially after Tesla delivered 74,402 vehicles in February. Competitor BYD remains the name to watch in China, however, selling 206,089 vehicles last month. It marked the "second-highest China-made vehicle sales ever for the company, just behind the 100,291 units that were sold in November of last year," according to the Teslarati blog. 
Recall we also posted Tesla's Q1 delivery numbers for the U.S. earlier this month. Tesla reported Q1 2023 deliveries, posting a figure of 422,875 vehicles delivered. The company delivered 10,695 Model S/X vehicles and 412,180 Model 3/Y vehicles.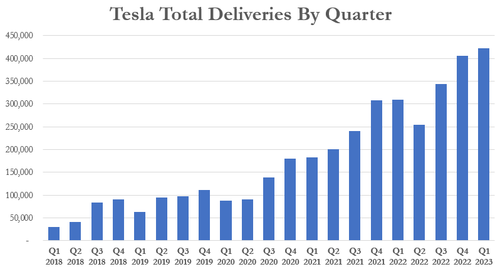 This Q1 figure was a 36% increase year over year and a 4% increase sequentially, compared to the 405,278 deliveries the company posted in Q4 2022. Bulls are likely to see the beat as good news, while bears will likely argue that the "beat" wasn't enough given the drastic price cuts Tesla has put into place since the end of last year.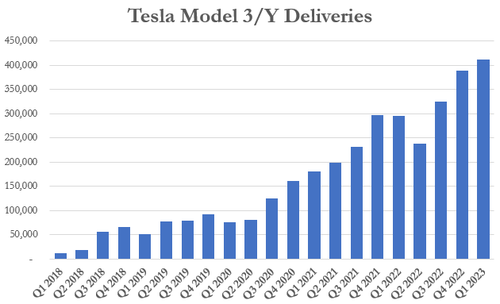 "We continued to transition towards a more even regional mix of vehicle builds, including Model S/X vehicles in transit to EMEA and APAC," the company's release said. Despite this mix change, the Model S and Model X are becoming dwindling contributors to Tesla's delivery bottom line.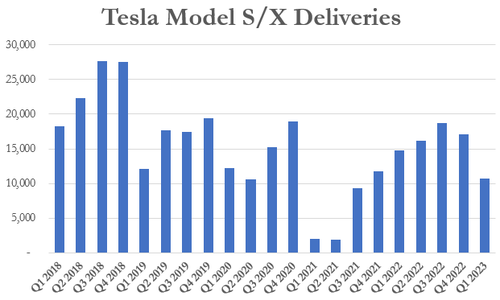 Martin Viecha, Tesla's head of IR, said last week: "Sequential growth continues even in the first quarter."
With these new price cuts, it looks like Tesla wants to make sure that trend will continue. The only question, naturally, is how the cuts will affect margin and the company's bottom line. Analyst Gordon Johnson says that despite the robust China numbers, Tesla's earnings could be setting up for an "epic disaster" on margin compression. 
The company is set to report earnings in less than a week, on April 19. 
Tyler Durden
Fri, 04/14/2023 - 14:40