SEC Sides With Conservatives Over Launching PayPal Discrimination Probe
April 15, 2023 | Tags: ZEROHEDGE
SEC Sides With Conservatives Over Launching PayPal Discrimination Probe
Authored by Kevin Stocklin via The Epoch Times (emphasis ours),
The Securities and Exchange Commission (SEC) sided with conservative investors this week in their request to investigate what they say is PayPal's systematic political and religious discrimination against customers.
Over the objections of PayPal's management, the SEC allowed a proposal by the National Center for Public Policy Research (NCPPR) to go to a shareholder vote at the company's next annual meeting. This decision follows a similar decision on March 29, in which the SEC green-lighted a proposal regarding alleged political and religious discrimination at JPMorgan Chase, America's largest bank.
In an April 10 letter to PayPal's attorneys, the SEC stated that NCPPR's proposal "requests that the board conduct an evaluation and issue a report within the next year evaluating how it oversees risks related to discrimination against individuals based on their race, color, religion (including religious views), sex, national origin, or political views, and whether such discrimination may impact individuals' exercise of their constitutionally protected civil rights."
Responding to PayPal's request to block the proposal from going to a shareholder vote, the SEC stated: "We are unable to concur in your view that the Company may exclude the Proposal under Rule 14a-8(i)(7). In our view, the Proposal transcends ordinary business matters."
PayPal had argued that its shareholders should not consider NCPPR's request because the issue of viewpoint discrimination is part of the company's "ordinary business operations" and that "the proposal seeks to 'micro-manage' the company by probing too deeply into matters of a complex nature upon which shareholders, as a group, would not be in a position to make an informed judgment."
The NCPPR proposal stated, among other things, that "companies that provide banking or financial services are essential pillars of the marketplace. On account of their unique and pivotal role in America's economy, many federal and state laws already prohibit them from discriminating when providing financial services to the public. And the UN Declaration of Human Rights, consistent with many other laws and the U.S. Constitution, recognizes that 'everyone has the right to freedom of thought, conscience and religion.'"
Conservatives Charge Viewpoint Discrimination
"We know from news stories that PayPal has been discriminating on the basis of viewpoints, shutting down accounts that differ from their 'woke' political principles," Scott Shepard, a director at NCPPR and co-author of the proposal, told The Epoch Times. "We're giving them a chance with this to consider ways to rectify those problems."
PayPal has scored well in terms of its support for progressive causes. Standard & Poor's ranked it a 49 out of 100 in the social-justice category of its environmental, social, and governance (ESG) score, more than double the industry average of 22, though below the industry best of 90. Its overall ESG rating increased steadily from 18 in 2018 to 58 today.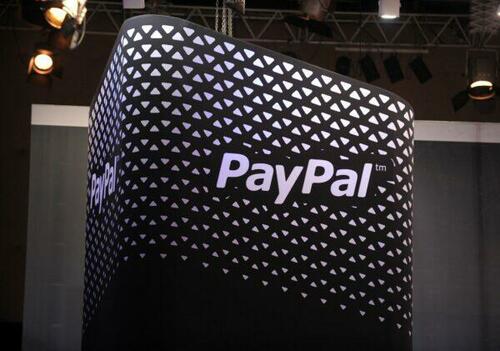 PayPal scored a perfect 100 percent on the Corporate Equality Index (CEI), published by the Human Rights Campaign (HRC). The HRC publishes various corporate indices that it says are "benchmarks of LGBTQ-inclusive policies, practices, and benefits of our nation's employers." Noting left-wing philanthropist George Soros's funding of the HRC, some analysts have suggested that campaigns such as Bud Light's endorsement of trans activist Dylan Mulvaney were part of a standard corporate practice of pursuing high scores from ESG rating agencies and progressive organizations like the HRC. Anheuser-Busch, the brewer of Bud Light beer, scored 100 on HRC's Corporate Equality Index.
Read more here...
Tyler Durden
Sat, 04/15/2023 - 15:30