Michigan State University Language Police Warn Of Offensive Words Like 'America', 'Female,' 'Wreaths'
April 17, 2023 | Tags: ZEROHEDGE
Michigan State University Language Police Warn Of Offensive Words Like 'America', 'Female,' 'Wreaths'
Submitted by Mark Pellin via Headline USA (emphasis ours),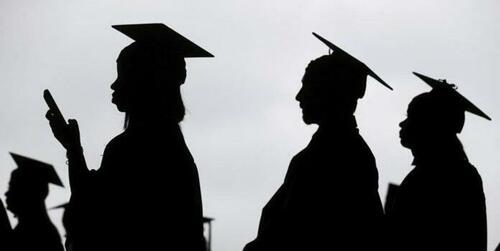 The latest iteration of Michigan State University's so-called inclusive language guide sparked divisive backlash for what it excluded and criticism that a woke language police had crossed the line.
The indoctrination tool was designed to curtail the use of wide-spread, commonly-used words and phrases that leftists have deemed offensive.
"The origins of seemingly innocuous idioms or words may be racist, sexist or ableist in nature," the guide claimed, dinging phrases and words like "hold the fort," "cake walk," "bonkers," "addict," "founder" and "America" as examples of bigoted language.
America, the guide instructed, should be referred to as the "United States."
The word "female" was excluded for inclusion in the guide's section dealing with "Gender and Sexuality." When used "as a noun for women," the "pejorative term reduces women to their assumed biological anatomy," the guide scolded.
The guide also advised to include cisgender whenever referring to transgender.
"Not including cisgender implies that cisgender identities are more valid than transgender identities," the guide warned.
Taking inclusiveness to a wild extreme, MSU language police recommended using a veritable alphabet to replace LGBT.
"LGBTQIA2S+ is often used at MSU to refer to lesbian, gay, bisexual, transgender, questioning and/or queer, intersex, asexual and two-spirit groups," the guide noted. "The plus sign refers to the inclusion of all identities that are not specified in the acronym."
"Bonkers" is strictly forbidden. 😉

— Heather Dow (@PatriotPostGirl) April 2, 2023
Words deemed offensive for "Indigenous stereotyping and colonial language" included "tribe," "low man on the totem pole," "powwow," "sitting Indian style," "bury the hatchet," "on the warpath," "shaman," "rain dance," "savage," "barbarian," "off the reservation," "spirit animal," "scalped," "peace pipe," "hold down the fort," "frontier."
The term Spartan, the university's mascot, escaped the purge.
"Don't use the shorthand 'POC' for people of color, 'BIPOC' for Black, Indigenous and people of color or 'QTBIPOC' for queer, transgender, Black, Indigenous and people of color unless in a direct quote; when used, explain it," the guide instructed. "These are vague terms that may unintentionally leave out race and ethnicity groups or create hierarchy."
The guide explained that the University "values communications practices that support belonging for all Spartans. In alignment with strategic efforts around diversity, equity and inclusion, the Inclusive Guide provides best practices for communications in gender and sexuality, race and ethnicity, global identity and disability."
In that vein, the guide warned, "Be aware that the terms 'obese,' 'obesity' and 'overweight' are pathologizing stigmas in the size-diversity community. Do not use these when describing individuals outside of communicating about research. Use 'higher weight' or 'larger-bodied if necessary and consider the barriers that 'students of size' face in marketing, events and classroom experiences."
To prevent what the guide called "male-centric and western father-son language," it advised using grade levels "first year" through "fourth year," instead of "freshman," "sophomore," "junior" and "senior."
Under the section for "Global Identity," the guide chided:
Labeling a person as an "illegal immigrant" or "illegal" is not only dehumanizing but also a poor way to describe someone's migration status. Consider using "undocumented immigrant" or "immigrant who is undocumented."
Avoid references to religious imagery and language. Use terms like "wishing you a wonderful winter/spring break" or "best wishes for the new year."
Avoid the contentious term "Islamist" and instead use the specific name of the group, movement or institution.
The guide's section on "Race and Ethnicity" instructed that African American and Black are not synonymous. A person may identify as African or African American or Black from geographical regions or with a distinct cultural heritage, for instance, Afro-Caribbean, Afro-Latine/x, Afro-Indigenous or Afro-Asian."
The inclusive guide did its best to divide, advising that "Brown" has been used for South Asian Americans, Middle Eastern Americans and Hispanic, Chicano/a and Latino/a/x Americans either as a pejorative term or as self-identification. Use specific racial identities."
Neutering the language is not more diverse it is less diverse. So were words like menorah and driedel and latke also banned? Or just Christians?

— Steve (@sjfletcher1) April 1, 2023
Tyler Durden
Mon, 04/17/2023 - 12:20