REI To Close Portland Store, Citing 'Safety Of Our Employees' And 'Out-Of-Control' Thefts
April 19, 2023 | Tags: ZEROHEDGE
REI To Close Portland Store, Citing 'Safety Of Our Employees' And 'Out-Of-Control' Thefts
Add outdoor retail giant REI to the growing list of companies planning to close stores in Portland, Oregon, because of rampant lawlessness in the Democrat-controlled city. 
Oregon Live said REI notified customers on Monday about plans to close its store in Portland's Pearl District early next year. The retailer said its store in Portland "had its highest number of break-ins and thefts in two decades, despite actions to provide extra security."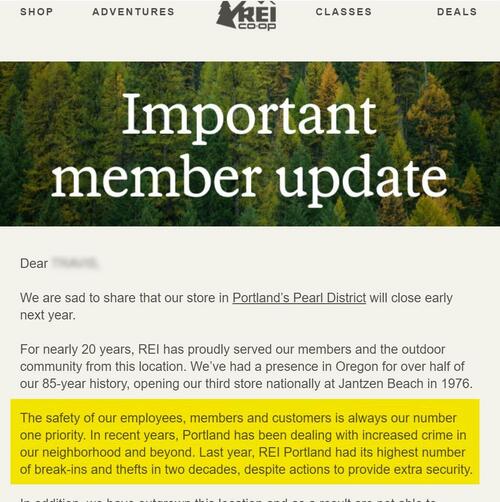 "While we do not believe a downtown Portland location will be possible in the near term, our stores in Tualatin, Hillsboro, and Clackamas remain open and ready to outfit you with the gear and advice you need to enjoy life outside," REI told customers.
REI spokesperson Megan Behrbaum told the local media outlet that REI had made numerous investments in theft prevention, including hiring private security, surveillance technology, and security glass. She said despite all of this, the break-ins and shoplifting continued. 
"The extra security measures required to keep customers and employees safe are not financially sustainable.

"We will continue to invest in these areas through the remainder of our lease, but cannot justify continuing this expense through a lease extension beyond early 2024," Behrbaum said. 
REI has been added to the list of major retailers shuttering stores in Portland. Walmart and Cracker Barrel called it quits last month. Nike also closed a store to public access, telling city officials that shoplifting was the cause.
According to the Portland Police Bureau, burglaries, robberies, vehicle thefts, and vandalism have surged over the last several years. The jump in violent crime comes just after the city elected a progressive district attorney in 2019 that implemented social justice reforms that have largely backfired. 
Portland was once known as the 'crown jewel of the West Coast' for its trendy art and food shops but is now transforming into a liberal hellhole of lawlessness as businesses have no choice but to exit to protect margins.  
More broadly, Portland isn't the only liberal metro area experiencing business flight. Out-of-touch city leaders in Chicago were furious last week with Walmart's plan to close stores.
Tyler Durden
Wed, 04/19/2023 - 21:20