US Prepping Military-Led Evacuation Of Embassy Staff From Sudan
April 20, 2023 | Tags: ZEROHEDGE
US Prepping Military-Led Evacuation Of Embassy Staff From Sudan
The recent breakout of civil war for control of the Sudanese capital city of Khartoum led by rival generals has prompted the US government to ready contingency plans to evacuate American embassy personnel who are currently sheltering in place. 
US Africa Command (AFRICOM) said in a Thursday statement that it "is monitoring the situation in Sudan and conducting prudent planning for various contingencies" - after a midweek ceasefire attempt failed to hold on.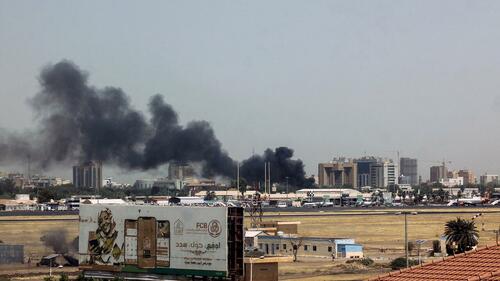 "As part of this, we are deploying additional capabilities nearby in the region for contingency purposes related to securing and potentially facilitating the departure of U.S. Embassy personnel from Sudan, if circumstances require it," according to Pentagon spokesperson Lt. Col. Phil Ventura.
Additionally, National Security Council spokesman John Kirby confirmed Thursday that the US knows the whereabouts of all diplomats still hunkered-down and that the State Department is trying to get "them all co-located together for their own safety."
According to Politico, the Pentagon is moving troops into place ahead of a potential evacuation:
Wendy Sherman, the deputy secretary of State, privately told lawmakers Wednesday that troops would be moving to Djibouti, home to Camp Lemmonier, to provide the administration an option to launch an evacuation operation, according to one of the people familiar with the situation. The person, along with others POLITICO spoke to for this story, was granted anonymity to discuss sensitive military planning and internal deliberations. Sherman stressed that the mission would whisk only embassy staff to safety and that there won't be a military-led general evacuation of American citizens, the lawmaker added.
Streets in the city have been transformed into war zones, and the UN estimates at least 185 people have been killed and more than 1,800 wounded. The fighting broke out Saturday, and the battles pit the Sudanese Armed Forces (SAF) led by General Abdel Fattah al-Burhan against the Rapid Support Forces (RSF) of General Mohamed Hamdan Dagalo - who's also known as Hemedti and has served as Burhan's deputy head of state.
What began as a peaceful protests and limited clashes over Sudan's political future is now a war for control of Africa's third-largest country. There remains significant dangers for Americans and foreign embassy staff, given it was only on Tuesday that US diplomatic convoy came under intense gunfire in the capital.
The State Department called the attack, which included at least 100 rounds fired on the US embassy convoy according to international reports, a "reckless" and "irresponsible" attack and called on both sides of the raging conflict to uphold the safety and security of American diplomatic personnel. 
All Americans and embassy staff were then ordered to shelter in place until help arrives, or calm returns. The Biden administration now is preparing for a worst case emergency evacuation scenario, given Sudan's embattled government is not expected to help.
Tyler Durden
Thu, 04/20/2023 - 22:00