Most Business Leaders Prefer Working With Millennials Over 'Discipline Lacking' GenZers
April 22, 2023 | Tags: ZEROHEDGE
Most Business Leaders Prefer Working With Millennials Over 'Discipline Lacking' GenZers
A new study revealed more than half of the business managers surveyed were forced to fire GenZ workers, citing challenges in working with this younger generation.
Resume Builder said out of the 1,344 managers and business leaders surveyed in April, a whopping 74% said, "GenZ is more difficult to work with than other generations." 
When the business leaders were asked why they felt this way toward the GenZ workers, they responded: 
49% say it's difficult to work with GenZ all or most of the time
The plurality of these business leaders and managers prefer to work with Millennials
Top reasons they feel GenZ is difficult to work with is they lack of technological skills, effort, and motivation
65% say they more commonly need to fire GenZers than employees of other generations
12% have fired a GenZer less than one week after their start date
Being too easily offended is a top reason GenZers get fired
Here are the top reasons why managers were annoyed with GenZers in the office: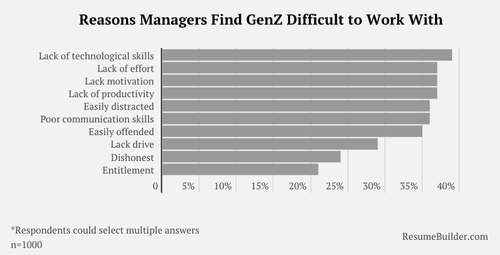 "In our organization, the GenZs I have interacted with can be exhausting because they lack discipline, and they like to challenge you," Akpan Ukeme, the head of HR at SGK Global Shipping Services, told Resume Builder. 
Ukeme continued:
"I've butted heads more than once with a GenZ employee, because since our company is online-based, they think they know everything about the digital world and that they can teach me. They think they're better than you, smarter than you, more capable than you, and they will tell you to your face." 
Among those who consider GenZ the most challenging generation to work with, 34% would instead work with Millennials.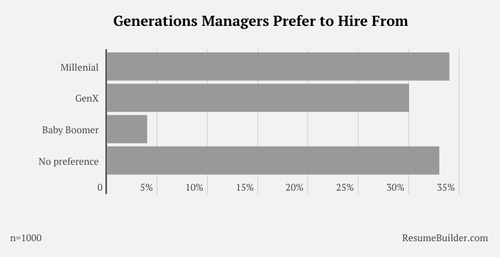 "As a result of COVID-19 and remote education, it's possible that GenZers lack the foundation to be more successful than older generations in entry-level positions," said Chief Career Advisor Stacie Haller.
And those managers that find it challenging to work with GenZers, 59% said they had been forced to fire this younger generation. 
Maybe because they're on TikTok all day?
We're starting to get 80+ degree days here in NYC.

This calls for rooftops and another Day in the Life in Tech Sales ☀️

Follow along my journey on TikTok @ vinmatano pic.twitter.com/BkQBkDpbue

— Vin Matano (@vinmatano) April 17, 2023
All these Ochsner nurses got fired for this TikTok pic.twitter.com/oTkdZ0tHrj

— Nee ❤️ (@slimmxnee) April 16, 2023
Tyler Durden
Sat, 04/22/2023 - 12:00